Georgetown, Texas is a city on the grow! In May of 2019, it was rated as the 7th fastest growing city in the United States. It's home to the oldest university in Texas -- Southwestern University -- which was formed from four existing colleges all the way in 1875.
It might just be your home, too!
As a suburb of Austin, Georgetown is subject to all the same wild weather – including a busy annual hail season and sweltering summer temperatures. An average shingle roof, which might last for 30 years in some locations, is more likely to fail around the 20-year mark here in Georgetown.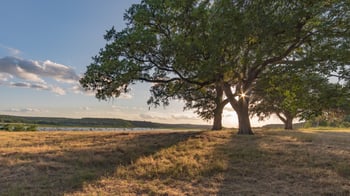 That means you should pick a Georgetown roofer you can trust – before you need one!
Georgetown Roofing Inspections, Repairs, and Replacements Made Easy
It's no mistake that Georgetown is the site of "Sun City" – it gets hot!
Unfortunately, this means your shingle roofs can get worn down before their time. if your attic doesn't have sufficient ventilation, trapped heat can create an oven-like effect and bake shingles from below.
These shingles don't change in appearance, but they are actually weak and soft. There's no telltale sign like cracking, bruising, or discoloration that you'd be able to see. Instead, they simply fail when it rains.
Unfortunately, these leaks spread fast and will often devastate a roof after just a little bit of sustained rain. Often, there's no other choice than to completely replace the roof. The best way to make sure this won't happen to you is to schedule an annual roof inspection with your friendly Georgetown roofer.
A shingle roof should be inspected once a year, ideally before storm season. This gives you time to get any repairs or updates done before rough weather rolls your way.
Put Georgetown Roofing Worries to Rest with Residential Metal Roofing
For the best Georgetown roofing experience, consider a residential metal roof.
Today's metal roofs are a far cry from the barn and grain silo roofs of old. Not only are they stylish, but they have amazing performance qualities no other Georgetown roof can match:
-They reflect about 50% of solar radiation, helping you reduce your cooling bill
-They are highly resistant to wind, rain, mold, mildew, and fire (and don't attract lightning!)
-They require inspections less often than shingle roofs and can last 40 years or more.
Contact Longhorn Roofing to learn more or get started.
Image credit: Image by Matt - Adobe Stock Photos