When it comes to roofing, Austin homeowners have increasingly become interested in learning about eco-friendly technology. Thanks to GAF – one of the leading names in shingle roofing systems – they have an exciting new option to choose. Longhorn Roofing is a GAF Certified Roof Installer so your next roofing project could be built with green, earth-friendly roofing materials!
GAF Raises the Bar on Green Roofing Shingles with New Product Certifications
Since 1886, GAF has been one of the most innovative companies in the world of building materials. With its roots as a paint brand, its evolution into a roofing materials company was complete in 1967, when its engineers designed the Timberline Shingle – extraordinary for both strength and beauty.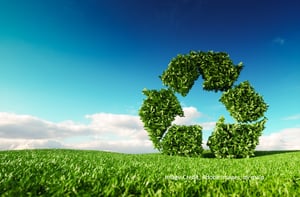 Over the decades since, Timberline Shingles have consistently been among the most popular in America. Now, GAF is taking the same concepts even further by introducing industry-leading, sustainable green roofing materials.
For several months, GAF has been undergoing an accreditation process with NSF International, one of the world's leading product testing and certification bodies. NSF is an impartial body that administers human and environmental health certifications for brands committed to protecting the environment.
As of November 2020, GAF Timberline HDZ and Timberline CS roofing shingle products have officially been recognized for "cradle-to-grave excellence," reflecting GAF's commitment to industry leadership in the fast-growing green building sector.
That means that not only are Timberline HDZ and Timberline CS shingles safe for the environment, but every link in the manufacturing and shipping supply chain has been improved to reduce GAF's carbon footprint and overall environmental impact.
This is not the first time GAF has been lauded for outstanding practices in sustainable building.
Between NSF International and Underwriters Laboratories (UL), a global safety certification company, GAF has accumulated no less than 45 environmental product certifications. Both its residential and commercial roofing products have met strict standards.
Longhorn Roofing Offers GAF Timberline HDZ and Timberline CS Roofing Shingles
With their combination of beauty, performance, reliability and sustainability, GAF Timberline shingles have long set a winning standard in roofing. When it comes to sustainable, green roofing, Austin homeowners have been clear that they want the best options on the market, and Longhorn Roofing is dedicated to providing them.
Whether you want the finest dimensional shingles, reflective "cool roof" shingles, or even a residential metal roof, Longhorn is the name in roofing Austin counts on for a diverse selection and highest quality.
To find out more, just call our team at Longhorn Roofing today.