Round Rock: It's one of the fastest-growing towns in America and recognized among the country's most livable.
When it comes to dining, shopping, and nightlife, Round Rock has it all.
But thanks to drought conditions, high heat, and wind, there are important steps Round Rock locals need to take to stay safe this year – and they involve taking informed actions to reduce fire risks.
This month, Williamson County issued a ban on outdoor burning. The ban affects Round Rock as well as our neighbors in dozens of cities and towns – 566,00 people in all.
There are two important facts to remember about this: Burn bans are not uncommon, and metal roofs are not an option for a large number of homes in Round Rock—those subject to CC&Rs.
For those who have the option, however, and want to take precautions to reduce fire hazards in future years, one potential solution is right over your head: Your roof.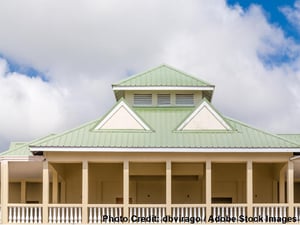 Older Shingle Roofs Are at Elevated Risk of Fire Damage
A single spark from a fire pit or burn operation can ignite a structure and cause tremendous damage. Tiny pieces of debris from burn sites can carry a surprisingly long way – and your roof is one of the biggest targets they could hit in your home.
This is a problem for homeowners who have older shingle roofs made principally from asphalt. Asphalt shingles are made largely of petroleum. They can catch fire in seconds, and that fire easily spreads to the rest of the roof surface. They may burn away in just a few minutes.
Newer composite shingle roofs offer a higher level of fire resistance and are typically Class A rated. However, over the period of time it takes for fire rescue to arrive, they may still burn up.
A Metal Roof Offers the Ultimate Protection Against Fire
Combined with a fire suppressant system for the interior of the home, a metal roof offers you enhanced protection against home fires. A metal roof should not be expected to contain a fire from within the home, but it offers world-class fire resistance for the exterior.
Metal is a safe and environmentally responsible roofing material. Sparks and flaming debris on a metal roof will typically self-extinguish within just a few seconds.
Naturally, you should still take appropriate fire precautions for your exterior:
Keep shrubbery, grass, and other materials away from exterior walls
Keep your lawn clear of wood and brush debris that could catch fire
Ensure you have a working smoke alarm and a fire extinguisher
For overall safety, however, a metal roof can't be beat. To learn more, contact Longhorn Roofing.