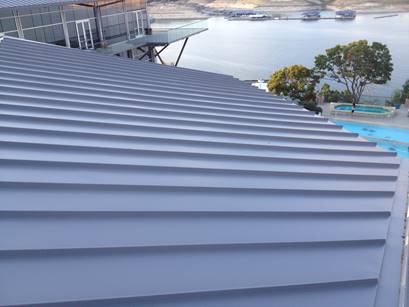 Are you interested in the beautiful and modern styling that metal roofing offers? A roof that's made of metal typically lasts twice as long as a shingle roof, but requires lower maintenance.
Metal roofs are truly weatherproof and even repel hail. They are energy efficient because they keep homes cool, and are free from the algae, lichen, and moss that inhabit the roofs of over 90 percent of buildings in the country — resulting in a very professional finish.
In Central Texas, metal has become a popular upscale roofing option for many homes and businesses who like the unique look, sleek lines, excellent durability and low maintenance.
We're Experienced Metal Roofers in Austin
At Longhorn Roofing, we have three decades of experience installing fire- and wind-resistant metal roofing in the Austin area. We know how to estimate the correct pitch and how to make sure your roof is perfectly fitted on your home or business.
When you choose Longhorn Roofing to install and maintain your roof, you will have durable protection for your home for 30 to 50 years into the future. We offer world-class customer service and expertise to make sure that your roof installation experience is smooth and stress-free.
We have seen the damage that a poorly installed, low-quality roof can do. It will leak like a sieve into your home and look like a patchwork of rusty bolts. Over the years, we have come to the rescue of many homeowners and business owners in and around the Austin area that have had bad experiences.
We Manufacture Our Own Standing-Seam 24-Gauge Galvalume-Coated Steel Panels
Longhorn Roofing manufactures its own standing-seam 24-gauge Galvalume coated steel panels on site for all of our roofing customers. Our panels are thicker, more seamless and infinitely stronger than other metal roofing materials. This sets us apart from the competition because many roofing companies use standard 26-gauge steel purchased at home improvement centers.
By making our own metal panels, we can guarantee a perfect fit every time, and our standing seam process means no more unsightly screws, bolts, and exposed fasteners. Metal roofs installed and maintained by Longhorn Roofing last 35 to 50 years, to offer excellent value both in terms of cost and durability.
Fire Resistance – A Great Benefit
However, another important consideration for anyone thinking about installing a metal roof is the fire and wind resistance that it offers. Longhorn Roofing installs high-quality, durable metal roofing that offers the highest levels of fire and wind resistance.
The wildfires that we've experienced in the Austin area in recent years have heightened everyone's awareness around the dangers of structural fires.
Did you know that a roof is one of the first lines of protection on a building?
Metal panels provide excellent fire protection, as well as:
A lower load on the roof than other fire-safe products like tile, to create a roof that won't cave in
Kynar 500 coated Galvalume panels that have a

Class A fire rating
Wind Resistance During Strong Central Texas Storms
Metal is an excellent option for wind resistance during strong storms. Unlike 3-tab shingle roofs that have many pieces and areas where wind can lift shingles and cause damage, metal roofs have very few exposed edges. In the Austin area, storms oftentimes have tornado and hurricane-force winds.
Metal roofing has:
The highest strength-to-weight ratio of any roofing material
Proven to be wind resistant during hurricanes and storms in tornado alley
The added benefit of lower home owner's insurance due to the protection that it offers
Proper Installation is Essential
Similar to other roofing material, the strength and durability that metal roofs offer all depends on its installation.
Longhorn Roofing has:
Experienced metal roof installers
A standing-seam system that resists water infiltration under hydrostatic water pressure
Custom manufacturing of all metal roofs
The ability to offer periodic inspection and maintenance of your roof
Due to its reputation for high performance and its ability to keep homes cool in the summer, metal roofs have become one of the fastest-growing home-improvement choices.
In the Austin area — where heat, storms, and ice hit hard — metal roofs offer a superior option for homes and businesses that want a roof that will protect them from the elements, as well as last well into the future.
An Added Benefit of Metal Roofs: Energy Efficiency
Metal roofs qualify as one of only a few "cool" roofing choices available today. Cool metal roofs deliver high solar reflectance and higher thermal emittance than standard roofing products. Cool roofing materials are not only more energy efficient, but also reduce the damage of the sun's rays on a building — and the urban heat island effect.
Metal roofs provide energy efficiency by:
Reflecting the sun's rays off of the house
Reducing the heat gain into the attic and home so they don't get hotter than the outside air
Lowering the load on the HVAC system and reducing energy costs
Cool metal roofs are particularly effective in hot climates because they make the home environment more comfortable by preventing the heat from entering the home and attic. Additionally, since the air conditioning system doesn't have to work as hard, you may also save money by not having to replace it as quickly.
Long-Term-Durability of Metal Roofing
Properly installed and well-maintained, metal roofing can last 35 to 50 years, giving homeowners and businesses a very good value for the money invested.
To Ensure that Our Metal Roofs Have Long-Term Durability, Longhorn Roofing:
Uses its own standing-seam process so that there are no unsightly bolts, screws or exposed fasteners to gather rust
Manufactures its own, extra thick, 24-gauge Galvalume-coated steel panels
Custom builds the panels on-site for a perfect fit
Has fade- and chalk-resistant coatings
Metal Roofing Austin Benefits
Along with energy efficiency and long-lasting quality, other benefits that can make metal not only your best choice, but an affordable one, including:
The ability to lower homeowner's insurance rates
Very little maintenance requirement
A low weight-load on the home's structure
Longhorn Roofing Offers Superior Metal Roofing
Longhorn Roofing has come to the rescue of business owners and homeowners who have had poorly installed or low-quality metal roofs. Our metal roofs are built to last. It's completely weatherproof, repels hail, and keeps a roof free of algae, moss, and lichen that can deteriorate roofs. Furthermore, when you choose Longhorn Roofing to install your metal roof, you will have the added benefit of corresponding with our caring customer support staff throughout the process before, during and after your roof installation. With over three decades of work in the Austin area, Longhorn Roofing is a company you can trust.
Call (512) 982-6070 now for a free quote or click the button below to fill out a form to get in touch. We are also available for emergency repairs and will respond to your call quickly.