We're Experts in Storm Damage Repair, and Will Help You Get the Most Out of Your Insurance Policy
Have you noticed damage to your roof after a hail storm? Maybe you even find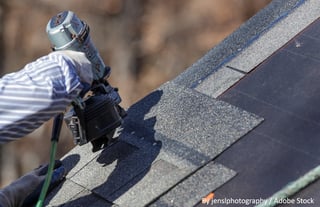 water leaking into your home. If you're wondering, "Will insurance pay for roof repair work and materials?", read on. This is a question we get often at Longhorn Roofing.
Here is our best answer:
Insurance Coverage Depends on Your Policy
As soon as you notice damage, you should contact your insurance company and submit a claim. Whether or not the policy will cover the damage or replace your roof can depend on:
Your homeowner's policy provisions
What sort of roof damage you have
The age of your roof
When the damage occurred
When you call to make a claim, your insurance company will send out an insurance adjuster to inspect the roof and damage. Based on that inspection, the company will determine whether they will pay for repair or replacement. Depending on your policy, even if they do agree to pay for a replacement, you may not get the full amount. For example, if your roof is more than ten years old, your insurance may depreciate the coverage and only pay for part of the replacement. However, most policies cover depreciation (it's called recoverable depreciation.) Insurance companies typically send a check prior to the work being done, and then will send a second check for the recoverable depreciation after the work has been completed.
Longhorn Roofing Experts Know How Insurance Works
As you can see, "Will my insurance cover a roof replacement?" is a difficult question and working with insurance claims can be complicated. As roofing experts with over 30 years of repairing and replacing roofs in Travis, Williamson, and Hays Counties, Longhorn Roofing is your best partner for getting the most help from your insurance company.
To put it simply, we know how insurance companies work and we can make sure that you get the full benefit of your homeowner's policy.
We Can Help You Get the Maximum Benefit
At Longhorn Roofing we are dedicated to making sure that our customers get the best products at a reasonable cost. There is a reason that customers have given us an "A" on Angie's list: they know we have helped them to get the most possible from their insurance company. More importantly, our customers know that when they have their roof repaired or replaced by us they get:
Top-quality roofing materials that last
Improved energy efficiency that saves money
Superior service and workmanship
Reliable advice about what is best for your home
We Work With You Regardless of Insurance Status
Even if your insurance doesn't cover the roof, you will need to repair or replace it in order to avoid damage to your home. That is why we promise to work with you throughout the process to get the repairs that you need on your roof -- at a price you can afford.