When people think "metal roofing," they often think of flat roofs, even though top quality metal roofs are anything but.
The best metal roofers now use standing seam roofing systems to maximize the value clients get from their new roof.
A standing seam roof has panels that run vertically up the roof. People enjoy their striking look, with vertical shadows that provide a tremendous amount of visual interest. But the appearance of standing seam is only the beginning of what makes it an outstanding roof.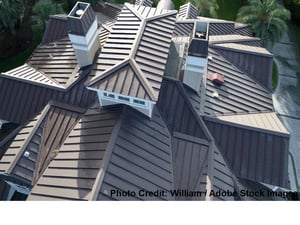 Let's take a closer look, shall we?
A Standing Seam Design Protects Your Roof's Structural Weak Points
No matter what kind of roof you have, there's one structural challenge your roofer always needs to overcome: Protecting the joints in the roof system. No matter where they appear, joints are always a weak point. In most roof systems, metal flashing reinforces them.
Flashing is also used around vent pipes and chimneys.
Of course, metal roofing systems are made from multiple panels – and the way those panels interconnect gives them tremendous strength. But a metal roofer needs to have the expertise to plan, fabricate, and install the panels correctly to bring out their capabilities.
Fabricate Metal Roofing Panels On-Site
An expert metal roofer will always fabricate your roofing panels on site after getting the necessary measurements. Unique roofing panels ensure a custom fit based on the dimensions and quirks of your structure. This safeguards against moisture penetration.
Use a Standing Seam Approach
Standing seam roofs are designed to conceal the fasteners with relatively tall seams impervious to cracking, streaking, and staining. The seams are protected from the elements and are less likely to warp in heat or cold.
Custom metal panels ensure the standing seams of the roof are perfectly sized and panels connect securely. Of course, it is important the seams themselves be defended from oxidization, since rust could weaken them and expose the fasteners over time.
This is where Galvalume comes in.
Galvalume is a "Secret Ingredient" for Metal Roofing
At Longhorn Roofing, we use only the best high-gauge Galvalume coated panels.
Galvalume is a special coating consisting of zinc, aluminum, and silicon. Zinc acts as a "sacrificial coating" that, being more chemically active than the underlying metal, reacts harmlessly with oxygen to prevent rust. Even our painted metal roofs have a base coat of galvalume, making them extra UV protected.
The fact that a modern metal roof should be rust-free for many years to come is another reason metal roof owners save on maintenance and see excellent long-term performance.
Get a Rust-Free Metal Roof from Austin's Top Metal Roofers
Although standing seam is more complex to install, it ultimately represents the apex of what a metal roofing system can do. To get the job done right the first time, choose metal roofers with plenty of experience.
Longhorn Roofing is the team that's delivered new metal roofing installation to residential and business customers all throughout the Austin area. To learn more, just contact us today.