Depending on when you moved into your Round Rock home, there's a chance you've never given a second thought to the state of your roof.
Most shingle roofs installed in the last generation were marketed as though they would last 30 years, about the length of an average mortgage term.
In reality, they typically wear out much sooner, about 15 years. Harsh weather is a major reason why.
That's a small fraction of what the average new homeowner expects. And it's vital to be prepared for when roofs start showing their age.
With today's wide-ranging Round Rock roofing options, more people are choosing to replace the roof early – before its maintenance needs increase.
While it's easy to think of a roof as "out of sight, out of mind," there are good reasons for you to be proactive about your roof's health. That's true no matter whether you plan to sell soon or stay for life.
Calls to Round Rock roofing professionals have increased over the last few years and show no signs of stopping any time soon. Let's look at the major reasons more are investing in new roofs: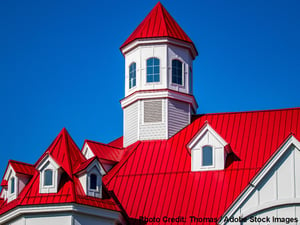 A New Roof Will Protect Your Investment Much Longer
As a roof ages, it naturally undergoes some wear and tear. At a certain point, structural weaknesses become more pronounced. For shingle roofs, that means areas that have lost shingles and been inundated by rain. Areas around vents and chimneys are also prone to damage.
Older roofs require maintenance and repair virtually every year. With a new roof, you could be saving hundreds of dollars on those costs. If you choose a metal roof, you can even reduce your professional roof inspections from once a year to once every two years.
A New Roof Will Help the Rest of Your Home Age Gracefully
Your roof is essential to the overall structure of your home. When it gets damaged, problems start – and we don't just mean leaks. A weak roof can enable mold and mildew infiltration in your attic. It can also cause structural problems in your walls and, eventually, your foundation.
A New Roof Can Reduce Your Home's Cost of Ownership
Your savings from a new roof aren't limited to roof maintenance. If you choose a metal roof or Cool Roof shingles, the reflectivity of your roof will reduce your annual air conditioning bill. A more reflective roof helps keep you warmer in the winter, too.
A New Roof is One of the Best Ways to Attract Buyers
In today's home market, buyers are more alert to problems that could make a sale a bad deal. One of the first things virtually any serious buyer will ask about is the roof. A new roof can give you more negotiating space and command a higher selling price for the home.
Tomorrow and a decade from now, a new roof pays off. Don't wait until an aging roof causes an emergency! Contact Longhorn Roofing today to discuss your Round Rock roofing project.