If you're looking for an Austin area metal roofer, it's important to choose a team that offers you the best quality and service around.
Here at Longhorn Roofing, our roofers perform to the highest industry standards on each and every job.
Although many homeowners have decided to opt for modern metal roofing over the last few years, business owners will find a lot to love in these roofs, too. In fact, a new roof from an Austin metal roofer can be a great investment.
Let's consider some of the many reasons why:
Metal Roofing Reduces Maintenance
With standing seam metal roofing, you don't have to worry about joints and other structural weak points being damaged by weather or other hazards. As a result, you won't be concerned with as much repair work or maintenance, helping you save thousands of dollars over the years.
Naturally, business owners need to be especially cautious about the state of their roof. Damage can lead to a failed safety inspection that might shutter your operation for days or even weeks. A metal roof ensures you'll be in a risky situation with your roof much less often, if ever.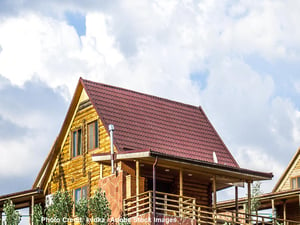 Metal Roofing Protects from Storms
Metal roofing is much more resistant to the elements than shingle roofing. Sure, a top-quality shingle roof also fends off all kinds of weather, but only a metal roof drives rain, snow, and hail right off its surface. Even major storm debris can sometimes roll right off your roof.
Older roofing is much more likely to spring a leak during storm season, and those leaks are even more challenging for businesses to deal with. Mold, mildew, and other issues can develop. Metal roofing will keep you safe and dry in even the harshest Austin weather conditions.
Metal Roofing Means Easier Cooling
One of the most important factors in maintaining any Austin business is making sure it's cool and breezy enough for people to enjoy. Naturally, that leads to running the air conditioning quite a bit, especially in the summer – which can add thousands to your monthly bills.
Metal roofing helps you keep your utilities under control by reflecting a huge portion of solar radiation. Since less sunlight is absorbed on the premises, your HVAC system won't have to work nearly as hard. Not only does that save money day to day, but it curbs maintenance.
Getting started with the best metal roof around means picking out the best Austin metal roofer.
With decades of experience, Longhorn Roofing strives to maintain that reputation among both our commercial and residential roofing clients.
In fact, homeowners who choose us for their Austin metal roofing project will find we provide the same excellence to them that we would to any area business.
When you choose us, your project starts with an on-site inspection and written estimate. There are never any surprises – from start to finish, you get the very best Austin roofing expertise.
To find out more or get started, simply contact us today.