Metal roofing is a significant investment in your home. The necessary materials and installation are markedly higher in cost than those needed for conventional roofs, but the cost to benefit ratio is quite favorable. Actually, if you take into consideration the long-term benefits, metal roofing won't seem quite so expensive.
If you're currently in search of a central Texas metal roofing company, read on to learn about five of the biggest benefits of metal roofing -- and how they can pay you dividends over the life of your home.
Longevity, Durability, and Low Maintenance
The most obvious benefit of metal is its ability to stand the test of time. Many metal roofs have served their purpose for several decades with no problem whatsoever; especially those constructed with standing seams rather than exposed fasteners (screw down roofs).
Plus, most homeowners are able to enjoy their metal roofs for years without having to perform any maintenance. Longevity alone is valuable, but when it's combined with zero maintenance, it makes for a hard deal to beat.
Tax Benefits
Many homeowners are unaware of the tax benefit behind metal roofs. Since most roofing that's made of metal is Energy Star rated, there are federal tax credits that can be applied to your return during the year you decide to install a new metal roof - 10% of your new roof's cost (excluding labor), up to $500.
Be sure to check your region's local tax code for additional savings. Some localities have instituted tax credits that can be taken advantage of in addition to the federal discount mentioned above.
Energy Efficiency
Metal reflects a large percentage of the sun's rays, meaning it keeps your home cooler. This is the reason for the Energy Star rating and federal tax credit. Roofing that reflects light and radiates heat improves energy efficiency by cooling one very important part of your home: the attic.
Your attic acts as an insulating layer of air between the outside world and the rest of your home. When it gets overheated, your home will be much more difficult to cool. And most attics are packed with HVAC ductwork, which is intended to transport cold air from your AC unit to the rest of your home. A hot attic will make your HVAC unit work far harder than it should have to.
Increased Home Value
According to the National Association of Realtors, installing a high quality, visually appealing roof to your home can raise its value by 5%. For a $225,000 home, that would translate to roughly $11,000!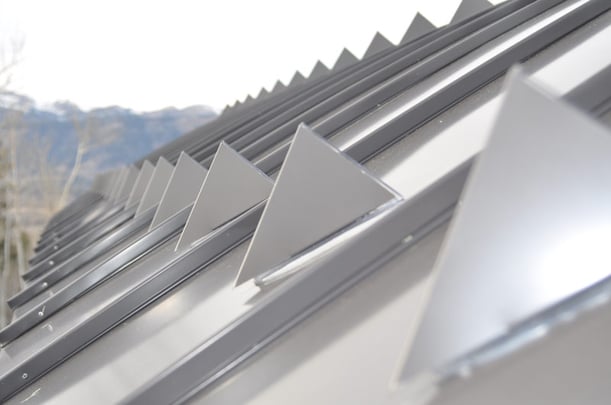 Although a new roof with conventional shingles will still raise the value of your home, it will wear out eventually. A new metal roof with 50+ years of life brings inherent value to your home that isn't likely to wear out or require replacement. Knowing that you're adding permanent value to your home with a roof that's made to last takes away some of the initial sticker shock.
Potential Home Insurance Savings
The tough, durable nature of metal roofing isn't just beneficial for reducing maintenance and increasing longevity. It's also good for an insurance discount. Insurance companies consider metal, as well as some types of specialty shingles, to be impact resistant, with hail damage being the main area of concern. As a result, installing a metal roof can often get you a discount on your insurance rate.
However, there is one small detail to keep in mind. Some insurance companies will remove coverage for roof damage if you accept the discount. If you don't live in an area that experiences severe hail storms, this might not be much of a problem. Further, if you don't mind a few dings in your metal roof, it still isn't much of a problem (It takes a lot of force to render a metal roof dysfunctional).
In the long run, metal can easily pay for itself with its rugged durability, energy efficiency, tax discount potential, and inherent long-term value. So don't rule it just because if its expense. The next time your home is due for a new roof, find out if metal is the right choice for you.
If you're not sure, call the professionals at Longhorn Roofing today at (512) 982-6070, or click the button below to fill out a form.