When you have an important roofing job, it's always best to avoid leaving things to chance
And, in Austin, every roofing job is important!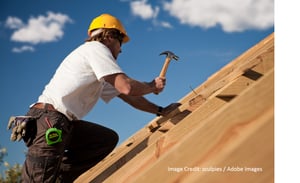 Austin roofers need to have the experience and knowledge to install, repair, and replace a wide variety of different roofs. Every roof needs to stand up to winds, rain, snow, and sun.
Storms can happen in the blink of an eye, so you're making a big decision when you pick your Austin roofers. At Longhorn Roofing, our more than 30 years of experience in and around the Austin area has given us plenty of time to perfect our craft.
Established Austin roofers can handle all these jobs:
Composite Roofing
At Longhorn Roofing, composite roofing uses top quality composite shingles designed to last up to 30 years. These shingles provide a classic look that's suitable for most Austin homes, even Victorian and Mission styles. Composite shingles defend against water damage, hail, warping, and winds up to 110 MPH.
Metal Roofing
Metal roofing is the biggest residential trend of the decade. It offers the best energy efficiency benefits on the market, helping you save money on both heating and cooling. Installed correctly, it is virtually maintenance-free. Plus, it's impervious to mold and mildew.
Cool Roof Shingles
"Cool roof" shingles are reflective roofing shingles made from special materials. They combine the aesthetic appeal of composite roofing with the reflective capabilities associated with metal roofing. These shingles provide more comfortable indoor temperatures and lower energy usage overall.
Roof Ventilation
Roof ventilation is an essential part of managing home temperatures – both in the winter and in the summer. Without proper roof ventilation, even the best modern insulation won't perform as well as it could. Proper airflow is an often overlooked part of home maintenance.
Roof Repairs
The sooner your roof issues are fixed, the better. Even superficial damage shows you where soft spots in the roof could eventually give way to the weight of snow, hail, or even improperly drained rainwater. Professional repairs protect and extend the life of your roof.
Roof Flashing Repair
Flashing is the material that reinforces the joints in your roof. It's typically either galvanized steel or aluminum, though pipes and chimneys can have rubber flashing. Since flashing safeguards structural weak points in the roof, it should be considered a priority repair.
Storm Damage Repair
In Austin, storm damage is a possibility everyone lives with. As leading Austin roofers, we strive to make things easier for our customers dealing with the tough aftermath of a storm. Not only will we handle all Austin storm damage repairs, we'll help you with your insurance claim.
Not all Austin roofers are the same. For your peace of mind and your investment, it's vital to choose a team dedicated to providing the best roofing around.
Longhorn Roofing will help you every step of the way, starting with a full written estimate for your project. There are never surprises when you pick us!
To find out more, or to get started, contact us.