Curb appeal is one of the most important parts of selling a home.
Everything that makes up the first impression a visitor gets when coming to your house is its curb appeal. Before they even have the chance to see inside, they are forming this idea.
It takes six to eight positive things to counteract a bad first impression. So, if you're going to sell a home, the best thing you can do is make sure you put your best foot forward from the start.
The simplest way to do that is with the roof.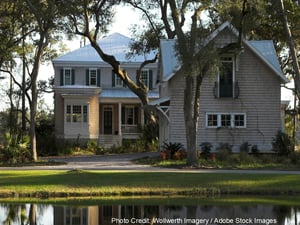 In fact, the roof is often the first thing that draws a potential buyer's eye. It frames the whole appearance of the house, even more so than the exterior color.
Beautiful metal roofing is a fine choice to make your home more attractive. It also serves you well in many other ways.
Let's look at how:
1. It's Clean, Modern, and New
Metal roofing offers a sleek, modern appearance that can be more eye-catching than a traditional shingle roof. This can be great for a buyer who is looking for something new and fresh. Those who prefer a clean, contemporary look love stylish metal roofing.
2. It Offers a Range of Aesthetics
There's not quite as many types of metal roofing as shingle, but the selection is increasing. Not only are there more colors than there used to be, but the structure of shingle offers you striking looks. Depending on shape, the roof can be emphasized with bold, dramatic shadows.
3. It's a Conversation Starter
Metal roofing is becoming more popular in the Austin area, but most people don't know about all its benefits. Buyers are sure to have questions about your roof, giving you the chance to talk about something that interests them and get them invested in the property.
4. Metal Has Unparalleled Performance
When it comes to required maintenance, no other roof is as safe and predictable as metal. You'll barely need to think about inspections and repairs, since rain, sleet, snow, and other hazards run right off. It's also immune to mold and mildew, so it will always look good.
5. Metal Roofing Can Save You Money
Spread the news to your prospective buyers: Metal roofing is a gift that keeps on giving. As it deflects an enormous amount of solar radiation, it makes it far easier to control the inside temperature. That makes your home cooler in summer and warmer in winter.
If you want to make an unbeatable first impression, metal roofing offers it. Not only is it nice to look at, but it helps would-be buyers with all the things they're concerned about: The cost of ownership, longevity of the house, and whether they'll just end up buying a new roof.
Metal roofing takes all of those worries off the table and then some.
No matter whether you're ready to sell or plan to stay for generations, metal roofing works.
To learn more, contact Longhorn Roofing today.