Quality Round Rock roofing has to stand up to all kinds of trouble, including some of the most intense wind storms in Texas. We do everything big around here, and weather is no exception!
But rough weather isn't the only concern your roof helps with. In fact, a healthy roof is one of the crucial parts of your home's climate control and comfort system – as important as your AC.
So, your roof has a tough job to do. Not only does it protect you, but it also ensures you'll be as comfortable as you can be in your home: Keeping you cool in the summer and warm in winter.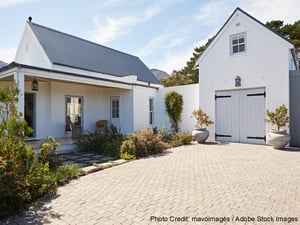 Conventional shingle roofs are limited in how well they do both these jobs:
The pitch of a shingle roof limits how heavy (and thus how strong) roof materials can be.
Heat transfer between your roof and attic makes it more difficult to manage temperatures.
All in all, if you want the best performance in Round Rock roofing, you need to think differently.
You need a metal roof.
Without a Metal Roof, Your Round Rock Home is Missing Out
As Round Rock roofing moves into the next millennium, more homes are sporting metal roofs.
Business owners are increasingly moving toward metal roofs, too. What's the secret?
When a custom-fabricated metal roof is installed by Round Rock roofing experts, it provides superior performance. Shingle roofs are beautiful, but nothing tops the very best metal roofing.
Consider these facts:
Metal Roofs Last Longer than Shingle
On average, a good shingle roof will last 30 years with appropriate maintenance. That's about as long as most families own a home – so, not too shabby. If you're in it for generations to come, though, metal roofing is the winner. It lasts an average 50 years with very little maintenance.
Metal Roofs Help You Save Money
Metal reflects a tremendous amount of solar energy away from your home. All that energy would come into contact with a typical shingle roof and may penetrate through to the attic. Reflectivity means you can run your air conditioning less and still keep your home cooler in summer.
Metal is Immune to a Whole Lot of Stuff
Maintaining a home can be a challenge, so why add work with your roof? A metal roof can't develop mold or mildew. It can't catch fire. And you'll be amazed at how quickly snow, hail, sleet, and rain run right off it – which means less worry about your gutters.
Metal is Different, But Beautiful
If you haven't seen a metal roof lately, it's time to take a second look. Modern metal roofs don't look anything like a barn or an outhouse. They come in a huge variety of colors. Plus, they can be patterned so dramatic shadows create a unique effect throughout the day.
If you're looking to sell, a metal roof can raise your resale value. If you're looking to stay, you'll never be disappointed. To learn more, contact Longhorn Roofing.