One of the most intimidating challenges of owning a home is keeping it maintained.
In fact, it's been said you should budget 1% of the total home cost each year for maintenance.
If you want to make maintenance much easier, however, Austin metal roofing is the solution.
While much of maintenance is unavoidable, you can improve the situation a great deal by choosing the right roof. Letting an older roof age until it is no longer feasible isn't your best bet, since you will end up paying increased roof maintenance costs over the years.
To simplify home maintenance, consider starting fresh with Austin metal roofing.
A new metal roof is a significant investment, but one that will pay itself back.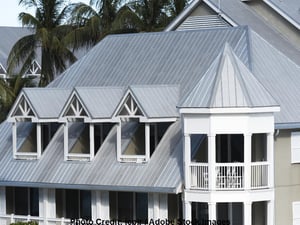 Metal roofing reduces costs in:
Annual maintenance, since you can wait two years between inspections instead of one.
Electricity costs, because metal roofing reflects solar radiation and keeps homes cool.
Emergency maintenance, because metal roofs are less likely to sustain weather damage.
There are some major ways metal roofing makes life easier that aren't often talked about.
1. Metal Roofs Are Lighter than Most Alternatives
Both in terms of color and weight, metal roofs are usually lighter than comparable shingle ones. Light coloration helps with reflectivity and reduces heat absorption, making the home more comfortable. And lighter overall weight is better for the structure as a whole.
2. Standing Seam Metal Roofs Have Few Structural Weak Points
When it comes to potential leaks, all roofs are weakest where different segments come together. For example, shingle roofs are vulnerable to leaks along vents and chimneys. With standing seam metal roofing, joints between roof panels are strongly reinforced and protected.
3. (Good) Metal Roofing is Actually Made for Your Home
At Longhorn Roofing, we believe that custom cut and fabrication of roofing is essential. Just like tailored clothes fit better, so too do custom roof panels. A superior fit means greater stability for your roof and further protects your home from the elements.
4. Metal Roofing Means Up to a Century of Protection
Traditional shingle roofs are designed to last for about 30 years – that is, about as long as the average mortgage. They're only just starting to increase in longevity. The average figure for a metal roof is more than twice that – 75 years – and it can be even higher with regular care.
5. Metal Roofing is Better for the Environment
With a metal roof, you'll run both your air conditioner and heater less to get the temperatures you want. But that's not the whole story. Metal roofing is up to 95% recycled material. When it reaches the end of its functional life, it can also be recycled.
If you're looking for a new roof with superior performance characteristics, then Austin metal roofing is the place to start. Only trust experienced experts in your metal roofing installation – and in your neighborhood, that means the pros at Longhorn Roofing.
To find out more or get started, contact us.