In a recent post, we talked about the Owens Corning Shingle Color of the Year for 2018, Sand Dune.Sand Dune is a superb selection for Austin-area homes. The coastal-inspired colors blen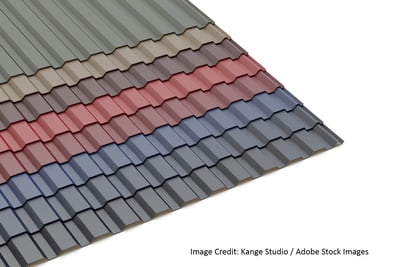 d beautifully with the scenery in our local area.
But what if you're more interested in metal roofing?
The latest trend sweeping the industry is designer roofing in bright, eye-catching colors. You don't have to have a traditional shingle roof to enjoy this, either: Metal roofing has a wide range of color options, from bright and bold to more subtle, that will suit any palette.
2018 Metal Roof Colors Offer Exciting Possibilities
A metal roof is ideal for comfort and energy efficiency. It reflects a huge amount of heat and light from the sun, making it that much easier to keep things cool inside – especially in summer.
Here's the rub: Not everybody is captivated by the look of an unpainted metal roof. Sure, the right style can give you dramatic, contrasting shadow lines ... but what about color?
When metal roofing was just getting started, there was a concern that certain painting processes would change the performance properties that make it so enticing to homeowners, adding costs to what's essentially a maintenance-free option. Now, however, those concerns have been laid to rest.
Metal roofs are more colorful than ever before.
According to the Metal Roof Alliance (MRA), bold, vivid colors are taking the U.S. by storm. There has been a big uptick in bright reds, blues, and even white metal roofs. Softer earth tones are still widely available, of course, but more homeowners are opting for a distinctive look.
Choosing a Colorful Metal Roof for Your Austin Home
How do you know which color is right for you?
Color is a personal choice, but it's a great idea to look at your proposed color under all lighting conditions – on sunny, cloudy, and rainy days and into the evening.
Although most metal roofs colors won't noticeably affect performance, white provides the best cooling, while black roofs have the least reflective power.
Your home's surroundings make a big difference on what color will look best. Striking colors are a lot of fun, but you might be able to stand out with more subtle options, too. It's a good idea to take neighboring homes into account, as well as any future plans to sell or renovate.
Last, but not least, you can visit the MRA website to visualize metal roofing designs.
Refresh Your Roof With Longhorn Roofing
At Longhorn Roofing, we exclusively fabricate and install screw-down, as well as standing-seam 24-gauge galvalume-coated steel panel metal roofs. Galvalume-coated metal roofing is thicker, stronger, and more seamless than the other options. The custom craftsmanship that goes into each and every project ensures exceptional performance, no matter what color you select.
This means that you get a perfect fit that will resist water infiltration like nothing else. With some occasional care, your metal roof could last 50 years -- through everything Texas can throw at it.
To find out about the colors that we offer, or to get started with a complimentary estimate, contact Longhorn Roofing today by clicking on the button below and filling out a short form.