Cedar Park is one community that has seen plenty of metal roofs spring up over the last few years.This city of about 75,000 is a top Austin suburb known for its hospitality, the Texas Stars hockey team, and ACC's Cyprus Creek campus, among other things.
Like the rest of our area, it also has storms and hot summers that make metal roofing ideal.
Metal roofs help protect your investment by giving you the best defense against wind, rain, snow, sun, and many other hazards. Metal roofs resist mold, mildew, and more. When cared for properly, they can last longer than even the best shingle roof.
The challenge: Not everyone knows how to do metal roofing repair correctly.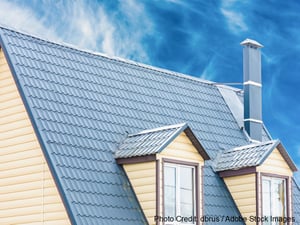 What Makes Metal Roofing Repair in Cedar Park Different?
Cedar Park homeowners who recently put up new metal roofs already know these roofs have few maintenance needs. Still, it's important to know a little about how metal roofing repair works.
Leaks and structural issues with metal roofs are somewhat different than those encountered by shingle roofs. A metal roof that's been fabricated and installed by experts should remain sound under all but the most extraordinary of circumstances.
When metal roofing repair is needed, it's usually for one of these reasons:
1. Metal Roofing Oxidation
Oxidation of panels used in metal roofing is usually prevented by a protective covering. Over time, this covering may wear off and discoloration can occur. Damaged areas can be repaired and the coating restored to prevent the issue from coming back.
2. Openings in Seams
Horizontal seam openings are most likely to be used in situations where metal roof panels do not extend the full rafter length of the building. Custom-made panels built for your home or business can minimize the need for horizontal seams in the first place.
3. Damage to Fasteners
When it comes to metal roofing, concealed fasteners are best. Exposed fasteners present a weak point that can succumb to weather damage. They can also be compromised by regular expansion and contraction of the panel. Replace screws and nails as needed to ensure structural strength.
4. Flashing Erosion
No matter what kind of roof you have, flashing needs to be examined with a critical eye in every maintenance period. Flashing is material that prevents water intrusion into joints in the roof. The joint is a natural weak spot in the construction that becomes vulnerable if flashing wears away.
Metal Roofing Repair from Austin Roofers You Can Trust
Metal roofs are strong and resilient. Getting them looked at every 1-2 years will help you avoid most problems. If you do find something in need of attention, make sure you pick a roofing team with plenty of experience in metal roofing repair.
Even companies that are great at installing shingle roofs may not have the expertise metal roofs need.
Longhorn Roofing of Austin has been at the forefront of metal roofing in Austin homes and businesses. Contact us today to ask about your free project estimate.