When it comes to DIY projects, lots of people get very excited about going up on their roof.
It's true!
Of course, as professional roofers, we understand that a great roof is a rewarding project. And, of course, there are some homeowners out there who do have the skills to take care of it.
When it comes to a metal roof, though, there are plenty of sound reasons to choose a professional metal roofer instead. Metal roofing is even more challenging than conventional shingle roofing.
Metal Roofing: The "Cool" New Austin Roofing Trend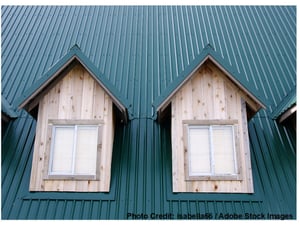 Homeowners and businesses in Austin are turning to metal roofing in record numbers lately.
The biggest perk we hear about from our customers: Energy efficiency!
When it's designed and installed by the pros, a metal roof is second to none in energy efficiency. This is because the material is highly reflective, causing solar radiation to bound right off the roof without penetrating into the structure.
You end up using less energy for cooling in the summer and, yes, heating in the winter. Plus, you're comfortable more often because it's easier to maintain your desired temperature. In the long run, you could save thousands on your electric bill.
All this, plus amazing resistance to rain, wind, snow, fire, mold, and mildew and it's obvious why more people are looking to metal for their next roof.
Yet, no matter how excited you are about the potential of your new metal roof, don't try to install it on your own. Let's look at the reasons why not.
Why You Should Always Hire a Professional Metal Roofer
A Metal Roof Should Be Fabricated On-Site
Your metal panels should be fabricated on-site so they capture the exact dimensions of your roof. This ensures all the materials used will be flush to the contours of the home, reducing future maintenance needs. It even makes serious issues, like leakage, far less likely. Plus, perfect sizing will enhance the temperature management qualities that metal roofing is known for.
A Custom Metal Roof is Thicker Than Store-Bought
When you purchase metal roofing from a hardware store, you usually get an inferior product. A professional metal roofer should use 24-gauge steel rather than the thinner 26-gauge steel that's commonly found on the shelf. Superior materials create another reason why the individual roof panels should be fashioned at the job-site by professionals, and installed with care.
Metal Roofing Can Be Damaged by ... Boots
Metal roofing is incredibly resilient. Most of what the world can throw at it bounces right off. Not the case when a full-grown adult wearing the wrong kind of shoes walks across it, though! If you don't know exactly how to handle metal roofing panels and maneuver them just right up on the roof, you could create the kind of dents, dings, nicks, and scrapes you're trying to avoid.
When it comes to a professional metal roofer, Austin Longhorn Roofing is the trusted name in the Austin area. To find out more, just contact us.