Are you searching for the metal roofing Austin residents can really rely on?
These days, many homeowners are looking to metal roofing as an alternative to classic shingle styles. It's particularly popular in the Austin area because it's exceptionally durable – resisting wind, hail, rain, and more – and reflects a large amount of solar energy.
That means it lasts longer and contributes to energy efficiency, saving on cooling bills.
There's one challenge: Most people have never bought a metal roof here in Austin or elsewhere. It can be difficult to know exactly what the difference is from one style, or one roofing company to the next. With that in mind, we wanted to simplify things for anyone who needs the plain facts on metal roofs.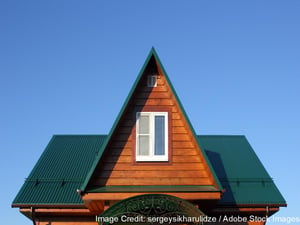 Two Major Factors to Look for in Metal Roofing Austin Can Trust
Naturally, whenever you're picking out an Austin roofer, you should consider the basics: How long they've been in service, what their reviews look like, and whether they have top credentials.
For a product like metal roofing, there are always special considerations you'd have to research to know about. Luckily, you can get the inside story right here at Longhorn Roofing!
So, here's what makes some metal roofing better than others:
1. Material Quality
The thickness and quality of metal roofing both make a tremendous difference in how it performs and how well it stands up to the test of time. Although metal roofing is often installed directly over existing roofing, thicker and heavier metal is almost always preferable. A thicker metal layer is more likely to last the 30-40 years that a good metal roof can reach with regular maintenance.
2. Attachment
Seams and fasteners (screws) are some of the weakest points on your roof. For example, the flashing around your chimney and ventilation pipes can warp and crack in even moderate weather. The same is true of the fasteners used in low-quality metal roofing. The best metal roofs are standing seam style. These provide a sleek appearance with minimal exposed seams. All of the fasteners (screws) are concealed under the panels so they never have to be replaced for the life of the roof.
3. Custom Sizing
It might seem obvious, but every piece of metal roofing Austin locals like best is completely customized to the job at hand. There's two aspects to this: First, it goes back to the best possible materials – of a standard you simply can't find at most hardware stores. Second, fabricating each piece of metal roofing right at the customer site is the best way to get an accurate measure.
Get the Best Metal Roofing All in One Place at Longhorn Roofing
At Longhorn Roofing, we exclusively offer 24-gauge standing seam galvalume metal roofing. This is much thicker and heavier than the standard 29-gauge found at most DIY stores or even the 26-gauge provided by many other Austin roofers. Despite that, the final cost to you is virtually identical.
All our roofing projects include on-site fabrication, so sizing is ideal every time.
To find out more or get started, contact us today.