Are you wondering about metal roofing repair and how it relates to your roof?
As a homeowner with a quality metal roof, you have the benefit of owning one of the most resilient types of roofing. Metal roofing repair shouldn't be needed on a regular basis, but you could find yourself with some minor damage after a particularly heavy storm.
Both residential and commercial metal roofing is resistant to rain, snow, hail, and even fire. Mold, mildew, and other environmental pollutants can't take root on the roof itself, either. Still, there are some unusual situations where you might discover your roof needs help.
Some of these include: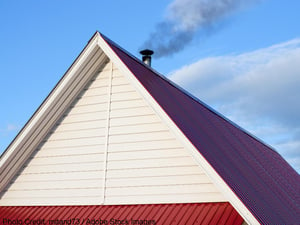 A direct hit by large storm debris that causes a significant dent or scratch in the roof.
Damage caused by walking on a metal roof in the wrong way or with the wrong shoes.
Buckling caused by major accumulation of snow or fast, extreme temperature changes.
Some common metal roofing repair issues include:
1. Metal Roof Seam and Flashing Repair
A standing seam metal roof is one in which joints and fastenings are as small as possible and are positioned so as not to be exposed to the elements. However, leaks can still occur due to open seams and flashings. Even the best seams can become warped after many years of harsh weather.
2. Metal Roof Oxidation
A top quality metal roof is resistant to many things that can settle on an ordinary shingle roof. However, oxidation is still possible. It has the appearance of a chalky coating that causes the roof's original color to fade. It can be cleaned off and restored using a specialized coating.
3. Metal Roof Panel Damage
Individual panels can be replaced during a metal roofing repair job. When this is needed, it's important to get precise measurements and have the new panel fabricated on site. The new panel must be perfectly measured to ensure a tight fit and avoid future leaks.
4. Improper Installation of Metal Roofing Systems
Installation oversights can cause all sorts of problems that might not be obvious right away. These can range from leaks to warping, or even collapse of part of your roof. Since metal roofing is often installed over existing material, it's vital to verify a flush fit across all dimensions.
Professional metal roofing repair should be fast, easy, and convenient for you. Although no one likes paying for roof repair, it is well worth it: A modern metal roof can often be restored to "like new" condition, adding years to its functional life in as little as one afternoon.
To reap all the benefits, it's important to choose a team well known for professional metal roofing repair. Longhorn Roofing, right here in Austin, has provided roofing services for decades. We've also been at the forefront of the ever-growing metal roofing trend.
We'll be glad to help you with your metal roof repair, replacement, or installation.
To find out more, or get started on your project, just get in touch today.