Roof replacement doesn't happen often – once every fifteen to twenty years or so for most homeowners in the Austin area. But when it does, it's essential that it be done right.With the proper materials and craftsmanship, a roof doesn't just last longer. It also requires less maintenance, stands up better to storms and snow, and supports structural integrity.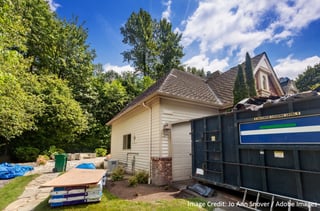 If you're considering roof replacement, here's what you need to know:
A Trustworthy Roofer is Essential
When it comes to the safety, comfort, and value of your home, unqualified roofers are truly the homeowner's worst enemy. Be cautious of the lowest bidder, especially if they can't prove that they've been operating in the area long. Roofers who aren't insured do sub-standard work.
Go All the Way With Your New Shingles
Some residential structures that use shingles can have up to two layers of roofing shingles. You can save some money by not removing your existing shingles but we do not advise this. Tearing off existing shingles will get you better long-term results. This is because there may damage to the underlying decking and flashing that can't be dealt with if old shingles are not removed.
You Should Invest in Quality Materials
It's reasonable to want to save money on your roofing project, but there's one area where you should always go premium: Materials. Selecting the best shingles for your structure will usually only add a few hundred dollars to your total price, but may mean avoiding another big roof replacement in ten years.
Always Look Twice at Your Paperwork
A roof replacement usually takes only a few days, but it's crucial to know what you're getting into. Any good Austin roofer starts by providing you with a written estimate based on a full roof inspection. Then, you'll receive a contract that spells out in black and white the final costs, the timeline, and what you can expect in the event of delays or complications.
Remember: It's Not Over When the Roof Goes Up
Here's something you might not know about roof replacement unless you've had it done before (or done it yourself): Hundreds of roofing nails can go into a single job. Despite everyone's best efforts, some of these are bound to end up on the lawn. Before all is said and done, the best roofers use specialized magnet sweepers to get rid of them all. Safety first!
Longhorn Roofing of Austin is here to make roofing easier for its customers. Our experienced Texas roofers work hard on every job and deliver exceptional service.
Our team works with Austin homeowners and business owners for all kinds of roof repair and replacement projects. After heavy weather, we'll even help you file insurance claims.
Your home is only as safe as the roof over your head. Contact Longhorn Roofing today for your free written estimate. We look forward to helping you.