Round Rock is a city with a strong foundation for economic growth. When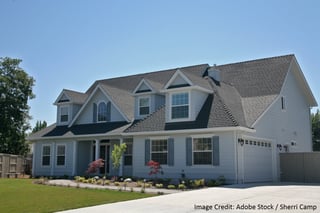 it comes to Round Rock roofing companies, Longhorn Roofing, a long-standing Round Rock Chamber of Commerce Member, stands out as being a proud supporter and investor in the health of Round Rock.
Longhorn Roofing has been a member of the Round Rock Chamber of Commerce since 2013.
Here are some ways that Longhorn Roofing stands out:
We Have Sustainable Roofing Practices
Did you know that in the U.S. alone, almost 10 million tons of shingles are taken off of roofs every year? Unfortunately, many of those shingles end up in landfills, even though with some care and consideration, shingles can be recycled for use in road repair and construction.
People in Round Rock care about the environment and Longhorn Roofing does, too. To reflect this, we are members of the Owens Corning Shingle Recycling Program.
This means that we have pledged:
To remove shingles and collect them for recycling
To make sure that shingles from our projects are always brought to collection locations verified by Earth 911
To use recycled products, when possible, and to follow the best practices of environmentally-friendly roofing
We Offer Energy Conservation Roofing Options
Another way that Longhorn Roofing seeks to be forward-thinking among roofing companies in Round Rock is by offering a variety of options for using a new roof to save on energy costs. A "cool roof" allows you to not only save money and reduce the load on your HVAC system, but also to create a more comfortable temperature throughout your home.
Some of the cool roofing options Longhorn Roofing offers are:
Custom-made, standing-seam, heavy-gauge metal roofing that reflects the sun's rays
Duration Premium COOL Shingles by Owens Corning and GAF as well as Timberline Cool Series Shingles, both of which have granules that reflect solar energy
Roof venting installation to allow the heat and moisture regulation to occur naturally
We Have an Established Reputation
With over 30 years of working in the Austin area, we are one of the roofing companies in the area with the most experience. One of the reasons we have been in business so long is that we take customer satisfaction seriously.
We know that our customers deserve to have:
Their calls answered promptly
Help in understanding insurance claims
All of their options explained carefully and thoroughly
Their property respected and cleaned up after the day's work is done
Longhorn Roofing Takes Investment in Round Rock Seriously
Round Rock, Texas is a wonderful community and Longhorn Roofing is proud to have a part in helping the community grow, thrive, and be protected with quality roofing products and installation. Even more importantly, Longhorn Roofing makes sure that roofing in our community is safe for our families and environmentally-friendly.