When you pick a Round Rock roofing expert, you want someone you can trust.
It's more important than ever to take extra precautions in selecting a business you can really rely on. This week, a crucial effort to root out roofing scams failed in the Texas legislature yet again, so consumers need to know how to protect themselves.
As reported by CBS 21 Dallas-Fort Worth and other local outlets, House Bill 2101 would have helped cut down on roofing scams by requiring state registration of roofers. An online database would enable Texans to check on the legitimacy of roofers before hiring them.
As of today, Texas is the only Gulf state that has no consumer protections against roofing scams.
Because of that and the severe weather conditions many parts of Texas face in the summer, the state attracts many troublemakers who set up seasonal scams. They collect money from honest homeowners and then never perform the work specified.
It's up to Texans seeking Round Rock roofing help to do their own footwork.
Here's how to do it.
Check the Website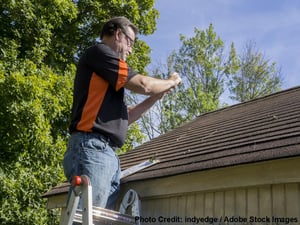 Let's face it: These days, all reputable businesses have websites. If a so-called roofing contractor doesn't have one, it's a bad sign. They're not worried about people finding or reviewing them. If they're not working on making their business the best, how can you be sure they have one?
Read Up on Reviews
Every business that's been around the block has at least some reviews. As a rule, people are more likely to share negative experiences than positive ones, so don't expect any business to be perfect. Still, the best roofers attract loyal customers with overwhelmingly positive comments.
Look at BBB Scores
The Better Business Bureau is a nonprofit founded in 1912 to help people make sound decisions about which companies to trust. It rates businesses based on their dedication to customer service and even tracks complaint resolution. Longhorn Roofing has a coveted "A" rating with the BBB.
Ask Lots of Questions
Whenever you deal with someone claiming to be a Round Rock roofing pro, be sure to ask lots of questions about what they intend to do, how they intend to do it, and what the timeline will be. Get everything about your prospective project in writing, including an estimate and contract.
Trust Your Gut
Roofing scammers get by in their illicit trade, not because they know anything about roofing, (they don't) but because they come off as personable and friendly. Usually, they seem like the kind of guys you'd want to drink a beer with. Trust your instincts and never give them money.
A Round Rock roofing team with years of experience is always your best bet. Not only does it mean safe, quality work, but it'll also help you in tough times. Only a qualified roofer can provide services that your insurance company may be willing to reimburse you for – period.
To find out more or to get started with the best roofers around, contact Longhorn Roofing.