Quality Round Rock roofing is an important part of ensuring the safety of a home & maintaining its value. With almost 100,000 residents, there's always plenty of work for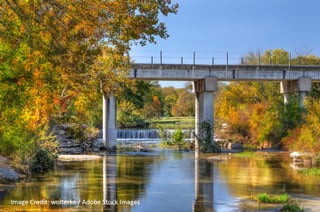 an experienced Texas roofer around this city!
However, spring is one of the best times to get Round Rock roofing projects done.
Homeowners might think that winter is the most difficult time of year for the roof. Every season brings its own challenges, however, and people often find that new roofing concerns first crop up in the spring.
Luckily, there are many ways you can quickly and easily keep your roof in fine condition.
Your friendly neighborhood Round Rock roofing experts advise you to watch for these signs:
Broken or Loosened Eaves
When leaves pile up in your eaves, a nasty clog is a typical result. Couple that with some refreshing spring rains and you'll be dealing with an overflow before you know it! To stop problems before they start, clear the eaves trough completely, then check the screws to ensure they're still tight.
Squirrels, Possums, and Racoons … Oh My!
It's nesting season, and these unexpected guests are always on the lookout for a safe, secure, and dry place to make their new homes. You can nip this in the bud early by monitoring your fascia boards and chimney for signs of life. If things get serious, call a wildlife removal professional.
Leaking or Cracked Chimney
As winter gives way to spring, you might find cracks growing larger in your chimney. In extreme cases, whole bricks may come out. Why? Water enters smaller cracks and will freeze, then expands overnight to push the bricks apart. A routine chimney inspection can give you the heads-up on this.
Springtime Leaks
As snow melts off for good, new leaks are more likely than virtually any other time of year. Keep a close eye on ceilings throughout the house to spot leaks. Worsening water spots should be taken care of by a Round Rock roofer right away. Don't overlook the risk presented by old, existing water damage!
Membrane Separation
Sounds pretty bad, doesn't it? This refers to flat membranes, typically made of modified bitumen or rubber, used in the roofing systems of commercial buildings. If you notice the membrane starting to slowly peel off or tear away, call for a roofing estimate right away – the material below is at serious risk.
Call a Round Rock-Area Roofing Specialist this Spring
Spring is a perfect time for cleaning and dealing with projects around the house. When you get down to it -- though there's never a wrong time to connect with a trusted Round Rock roofer – if you notice a problem, make that call!
Longhorn Roofing is always here to meet your needs. We make it fast and easy, starting with a written estimate so there are no surprises.
The sooner you solve your roofing dilemma, the more you're likely to save. Contact us today to find out more or get started by clicking on the box below to fill out a form for a free estimate. We look forward to helping you!