Round Rock roofing is constantly changing. Homeowners and businesses have new needs, and Round Rock roofing companies like Longhorn have even better skills, material, and equipment.
Naturally, you can't pick up the local newspaper and flip to the roofing section to find out what's going on. So, if you're curious about the Round Rock roofing trends in 2019, we're here for you.
Here are some of the top news items in Central Texas roofing: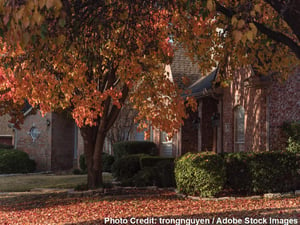 1. Owens Corning's Black Sable Continues to Be Popular for Shingle Roofs
Roofing materials manufacturer Owens Corning declared Black Sable its 2019 shingle color of the year. The "dark and mysterious" color is known for phenomenal depth and richness, which has continued to make it a leading choice.
2018's entry Sand Dune, which was already popular in Texas, also remains a top contender. Notably, Sand Dune absorbs less heat than Black Sable.
2. Metal Roofing is Still Gaining Strength in Round Rock and Beyond
Although lighter shingle colors can help you beat the heat in your Round Rock home, a metal roof continues to be the best selection for temperature control. More studies have validated metal as the eco-friendly and energy efficient roofing selection that's wowing Round Rock.
Just as a quick refresher, metal roofing lowers your energy consumption by reflecting a huge portion of solar radiation, preventing it from being absorbed into your home. That, in turn, means your AC or heater don't have to run nearly as long to maintain the temperature you want.
3. Reminder: It's Time to Clean Out the Gutters in Round Rock!
Cleaning out the gutters is an annual chore that's easy to find at the bottom of your priority list. Now that September has rolled around, however, you've got the best weather of the year to get it done – after the sweltering heat and before hailstorms or snow set in.
Remember, full gutters aren't just a cosmetic issue.
When gutters are full, it means future rain will drain toward the foot of your home rather than away from it. That can ultimately lead to cracks in your walls and foundations. Ice dams also become more likely, potentially harming the roof.
4. Beware of Anyone Offering a "Free Roof Replacement" in Round Rock
Lawmakers have introduced Texas House Bill 2102 in their efforts to combat roofing fraud. The new law specifies enforcement action to prevent contractors from offering to waive, split, or otherwise reduce the insurance deductible associated with roofing repair or replacement.
By offering to waive deductibles, unscrupulous "storm chasers" took advantage of homeowners' existing insurance. They would offer an impossibly low price for roofing work and then fail to actually do the work as promised – often leaving town shortly after getting paid.
For the best in Round Rock roofing, choose a company that has decades of local experience. We'll help you enjoy the latest roofing trends while providing our traditional craftsmanship and excellence. That gives you true peace of mind!
To learn more, contact us today.