If you're looking for the best roofing in Austin, you should consider a metal roof.
Metal roofing is taking Austin by storm thanks to its outstanding performance:
It's highly reflective, reducing heat absorption and thus lowering cooling costs.
It fully resists fire and is highly resistant to wind, rain, snow, mold, and mildew.
It requires very little in the way of maintenance and lasts 30-50 years on average.
It has even been considered so safe by insurers that it can lead to lower premiums.
However, that's not the whole story. As with any other major home investment, you want to be sure you are getting the absolute best product for your money. There are several different kinds of metal roofing in Austin, and the best around is standing seam metal roofing.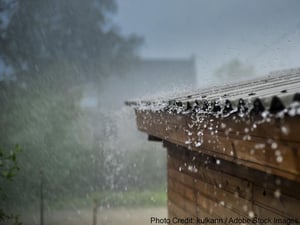 What is Standing Seam Metal Roofing?
Standing seam roof panels are even more resilient and durable than first-gen metal roofing. They are designed to have a distinctive appearance with panels running vertically along the whole length of the roof. The interlocking seams securely join one panel to the next.
People notice right away that this provides them with a striking alternating pattern of shadow and seams, giving a brilliant modern appearance for the roof. However, the big secret here is how well this approach to metal roofing supports long-term strength and durability.
When standing seam roofing is fabricated and installed correctly, the seams are remarkably strong with no visible fasteners. This makes the whole structure much more secure and prevents a lot of problems associated with traditional flashing seen on a shingle roof.
Snap-Lock Metal Roofing is the Best of the Bunch
There are several varieties of metal roofing in Austin, so it's important to select both a trustworthy roofer and the right metal roofing style. Many types have been tried on residential, commercial, and even agricultural buildings – but snap-lock standing seam metal roofing is the best there is.
In general, the most effective way to make a roof stronger – and one of the easiest – is to make sure any fastenings are protected from pressure and the elements. Unfortunately, many early-stage metal roofs still have exposed fasteners or nailing strips that are hard to install.
Snap-lock metal roofing uses clip fasteners that ensure the individual roofing panels can always expand or contract with changes in temperature. The fasteners are concealed, reinforcing them. All in all, they are easier to repair and less stress than either single- or double-lock.
Longhorn Roofing of Austin Offers the Latest Standing Seam Metal Roofing
At Longhorn Roofing, we're passionate about helping you choose the ideal metal roof for you. We install it right the first time to give you a beautiful roof and peace of mind you want.
For more than thirty years, our team has installed hundreds of commercial and residential metal roofs all over the Austin area. We stand behind each one of our projects with written estimates you can trust.
To find out more, contact us today.