When it comes to the best residential roofs, metal roofing contractors are a cut above the rest.
No matter what type of roofing work you want done, it's important to choose a team that has experience in the material you plan to use. The average contractor has worked a lot with standard shingle roofing but not much with metal roofing – a whole different ball game.
Homeowners and business owners alike need experienced metal roofing contractors to get the kind of quality they expect. Only a true expert in metal roofing can make sure you get all of the performance benefits only metal can offer you.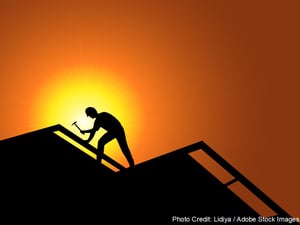 Performance benefits like:
Ultra-high reflectivity that prevents excess solar energy from overheating your home.
Terrific energy efficiency, enabling you to heat and cool spaces with less electricity.
Total defense against mold and mildew, plus no stuffy attic where it can develop.
Strong resistance to rainstorms, wind, and hail, with material that will never burn.
No need to worry about most winter roof hazards, including the notorious ice dam.
As impressive as metal roofing is, it still has to be fabricated and installed correctly to do all of this. As roof systems go, high-gauge standing seam systems are the only ones that can give you reliable excellence – and that means picking metal roofing contractors that can handle them.
Choosing Metal Roofing Contractors in Austin, TX: Three Things to Remember
Start with Credentials and Experience
The best roofing contractors have decades of experience, not just years. The business should hold membership in top professional associations. It should also be fully insured and bonded to protect your investment in your property. This is essential for true peace of mind.
Check Out Online Roofing Reviews
Online roofing reviews will give you a lot of insight in making your selection. Look for a high number of 5-star reviews going back years into the past. If you notice a smattering of bad reviews, check to see if the business has addressed the problems the customers raised.
Get Everything in Writing First
A written estimate prevents you from getting bogged down in unexpected costs. Estimates and contracts also show the roofing team is experienced enough to stand behind their work. A roofer who won't put things in writing lacks experience or equipment – or may not be a real roofer!
For a top notch metal roofing contractor in Austin, Longhorn Roofing is here for you. We have more than 30 years of experience and pioneered metal roofing in Austin. We've collected 20 5-star reviews on Yelp, a 4.6 score on Google with 34 reviews, and a 5/5 on Facebook.
Of course, we put everything we do in writing.
To find out more, contact Longhorn Roofing today.