April has arrived and it's Round Rock roofing season!
Naturally, the best way to get anything done in Round Rock roofing is to call a roofing pro.
Of course, there are many folks around Round Rock who are handy around the house and used to doing a lot of DIY projects. Sometimes, it may be tempting to head up on the roof – whether you want to give it a quick once over or replace a few shingles.
Our advice: Don't do it!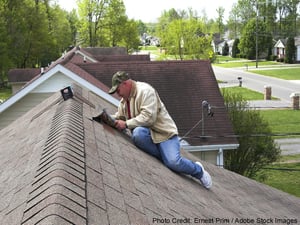 While some things in roofing might seem simple, they're always more complicated than they look. There are lots of reasons why it's unwise to get up on your roof, even if you're a seasoned veteran of many other projects.
3 Reasons You Should Never Get Up on Your Roof in Round Rock
1. You Can Damage Your Roof Just By Being Up There
Needless to say, a roof can wear out if too much weight is placed on any one part of it. When a trained roofer goes up, it's important to carefully practice the right ways of moving around. We have seen many situations where a well-meaning homeowner climbed up on the roof only to cause a number of small leaks – simply by wearing the wrong kind of shoes.
2. The Dangers of Roofing Get Worse With the Weather
In Round Rock roofing, we've worked out a number of safety precautions for all seasons. This is essential, because it's regularly 20 degrees hotter up on your roof than it is at ground level. Each roof has its own quirks – for example, the reflectivity of a metal roof can present hazards. So, staying off your roof is the best way to avoid heatstroke or other issues.
3. There's No Safety Net
We don't mean falling – although that could happen, and it's no picnic.
But here's the thing: When you do your own roofing, you're taking everything into your own hands. Your homeowner's insurance won't help you cover any costs related to your project.
If it later turns out that there's more damage to be fixed, you might have trouble getting coverage for that future work. In fact, you could accidentally drive up your insurance premiums.
Your insurer looks at the strength of your roof as one of the major factors that reduces risk and gives them peace of mind in covering you. Keep that in mind before you climb.
What's the Solution? Get Round Rock Roofing from Experts
In Round Rock and elsewhere throughout the Austin area, the best way to protect your home is to have a professional perform regular roof inspections. That means every 1-2 years for your shingle roof and every 2-3 years if you have metal roofing in Round Rock.
It might be tempting to do it yourself – our team can tell you that getting the job done brings real satisfaction – but it's not worth it. To get the Round Rock roofing help you can rely on, contact Longhorn Roofing.