Periodic roof repair is an important part of keeping your roof strong. Everyday, day in and day out, the roof is exposed to the elements – so damage can happen, even when the weather is fair.
Austin homeowners who've switched to metal roofs have an advantage here. Metal roof panels easily repel the elements. Plus, they're naturally impervious to mold, mildew, and fire.
Metal roofs are becoming more popular, but asphalt roof shingles are still the most common. Even high-quality composite roof shingles are made largely from asphalt, along with other materials.
If you have a shingle roof of any kind, it's crucial to be aware of the signs it needs repair.
So, how do you know when it's time for Austin roof repair on your shingle roof?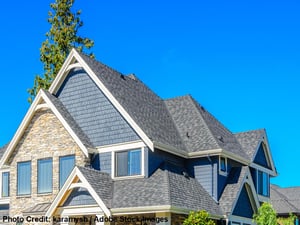 Check your shingles for these signs:
1. Curling
Asphalt ages and shrinks with time, producing a curling effect in shingles. This is less noticeable in composite shingles, but it will still happen. Mild curling is nothing to be alarmed about, but be sure to schedule an annual roof inspection. Widespread curling is an early warning sign of danger.
2. Cracks
Tiny cracks aren't a problem right away, but they can develop into leaks. Over time, even small cracks are likely to penetrate the shingles. These are the areas you should look at first if you suspect a roof leak. Call for Austin roof repair right away to avoid erosion and water damage.
3. Streaks
Dark brown or black streaks represent algae growth on the shingles. While not too common here in the Austin area, you'll see them all the time in more damp or humid regions. Algae can also spring to life in the rainy season. Mold and mildew can look similar, but both are dangerous.
4. Granule Loss
Minor granule loss is normal for well-made shingles. The shingles are manufactured with some excess granules intended to be lost over time while maintaining the look you want. When granule loss is severe, it often clogs gutters. That's a sign to get ready for Austin roof repair.
5. Shingle Loss
Shingle loss is a warning signal that a roof needs immediate attention. Shingles are often lost during heavy downpours, windstorms, and hail. Once a shingle is gone, the part of the roof it covered can start leaking at any time. Getting professional help within days is essential.
Worried About Your Roof? Get Austin Roof Repair Advice from the Pros
You can spot most problems we just listed with a quick check of the roof from ground level.
If you decide to go up on the roof yourself, be cautious and take appropriate safety measures. Be sure you understand the right ways to move and walk on the roof to protect yourself and your shingles. And, of course, be very careful of the footwear you use.
If you suspect a problem, you're probably right! It's much safer to call the experts.
To find out more or set your appointment, contact Longhorn Roofing today.