When it comes to roofing in Austin, metal versus shingle roofing is the first major choice to make.
While metal roofing in Austin has become very popular lately, it's important to keep in mind some of the more traditional options. These might go better with the look of your home or contribute to resale value when they match the style of the neighborhood.
As an Austin composite roofing contractor, we urge our customers not to overlook composite.
A composite roof has a more conventional appearance than metal and offers a number of performance benefits. It's strong, provides a high level of protection from weather, and grants a fairly wide range of aesthetic choices. Plus, it's easy to care for over time.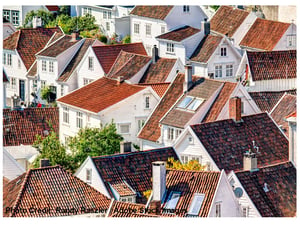 What is Composite Roofing?
Composite roofing uses a wide range of materials that reinforce one another to enhance the roof's overall strength. That can include various types of shingles and materials like asphalt, fiberglass, tar paper, slate, laminate, wood, and more.
The variety provides some interesting properties that do not always apply to other shingle roofs. For example, it's very easy to replace individual composite shingles that become damaged. A high quality composite shingle is also resistant to hazards like mold and algae growth.
Why Choose Composite Roofing in Austin?
Composite roofing is a smart overall choice for Austin roofing. It stands up well against harsh weather conditions and temperature extremes. No matter what Mother Nature throws at it, it won't split, crack, peel, or even warp. That's a major concern during harsh winters and summers like we have in Austin.
Another sound reason to consider composite roofing is the standard warranty. Many composite roofing manufacturers have strict quality standards which allow them to offer 30-50 year warranties. That cuts down on re-roofing costs, so all you have to think about is occasional maintenance.
Is Composite Roofing as Good as Slate or Cedar Shingles?
Conventional slate shingles are still popular in many areas. Combining strength and durability, they have generally superseded cedar shingles. Composite shingles are lighter and less expensive than slate shingles, while providing comparable beauty for your roof.
Composite roofing should also last longer than other shingles on average. This is largely because they can be supported on the roof with standard roofing nails. The extra weight of slate shingles makes them harder to install and means they're vulnerable to problems if installed incorrectly.
Choose an Austin Composite Roofing Contractor You Can Trust
Even if you choose the best premium roofing material, you still need the right expertise to make sure it delivers value. When a roof isn't installed correctly, it's prone to leakage and other issues.
With three decades of experience, Longhorn Roofing is the Austin composite roofing contractor the locals trust. All our projects start with an on-site review and written estimate you can rely on.
The Longhorn difference makes it easy to get the brand new roof you've been waiting for.
To find out more or get started, just contact us today.