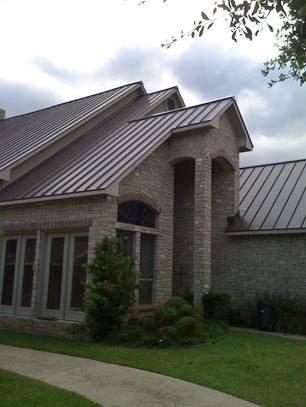 Interested in a metal roof for your home or business? Metal roofs can give a modern look that completely changes the appearance of a building to make it seem more upscale and stylish, perfectly fitting in with the Austin-area style. Better yet, metal roofs can keep buildings warmer in the summer and cooler in the winter, which saves on energy costs.
Austin Metal Roofing Experts
Making sure you get Austin metal roofing experts for your new roof installation is essential. Why? When a metal roof is done right, you can expect it to last for 35-50 years, even through our rough weather. However, when a metal roof is made from poor materials or not correctly installed, you can wind up with leaky ceilings and damage to the property that roof is supposed to protect. We know because at Longhorn Roofing we've had to come to the rescue when metal roofs were not done right the first time.
If you want a metal roof that can stand up to the weather, here is what to look for:
Experience
Longhorn Roofing experts have over 30 years of experience installing metal roofs. With experience comes the ability to make sure that the installation is done correctly so that your metal roof:
Has a perfect fit with the correct shape and pitch for your building
Protects fasteners from exposure and rust
Proper training of crew and sales team insures work is done correctly
Individualized Installation
Roofs are as unique as the home or business that they protect. Longhorn Roofing understands that you don't have a one-size-fits-all building and you need a roof that adds to the value of your property and makes a statement as well as protecting your investment. At Longhorn Roofing, we offer individualized attention to your roofing project through:
Design assistance as you choose the color and type of metal roof that best suits your building.
Personal attention and continued help in maintaining your roof.
On-site manufacturing and installation of panels to make sure that no matter how unusual your building may be, your roof is made to fit it perfectly.
Superior Roofing Materials
Many metal roofing contractors use standard 26-gauge steel from home improvement centers.
In contrast, Longhorn Roofing manufactures our own panels with:
Thicker, heavier 24-gauge steel
Galvalume® coating
On-site panel creation
Standing seam construction for professional appearance and durability
At Longhorn Roofing, we want you to love your new roof, and feel at ease during the whole process of your re-roofing project. Our award-winning service and BBB accreditation mean you can trust us to make sure you and your roof are taken care of from start to finish. As metal roofing experts, Longhorn Roofing will make sure your metal roof provides not only a professional finish to your home or business -- but also leaves you carefree for many years to come!
Contact us today by clicking on the button below to fill out a form for a free quote, or call (512) 982-6070.