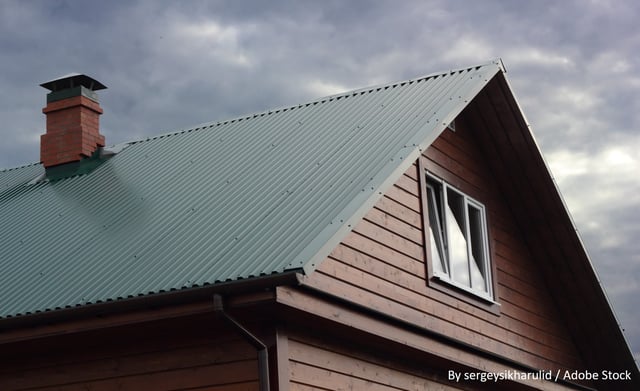 Have you noticed the increase in metal roofs on homes in the Austin area? Although metal roofing has been around since the 1700s, until recently, asphalt or wood shingles have been the most common roofing material in Texas.
Here are five reasons why installing a metal roof can increase the resale value of your home:
1.) Metal Roofs Give Homes a Contemporary Look
Whatever the age of your home, a metal roof will make it look modern and stylish. Additionally, metal roofs look more upscale and greatly enhance curb appeal. First impressions do count in home sales, and having a home with an attractive roof can be the "wow" factor that pushes the buyer to make a quick offer. In fact, Realtors estimate that installing a metal roof can improve a home's resale value 1-6 percent more than an asphalt shingle roof. Moreover, you will be able to recover about 85 percent of the roof cost in increased resale value.
2.) Metal Roof Makes a Home More Energy Efficient
In addition to increasing your resale value is the fact that Central Texas metal roofing lowers heating and cooling costs due to the fact that they:
Have good insulation properties.
Have low surface temperature.
Reflect the sun's rays and reduce ambient air temperatures.
Keep an attic cooler.
Lower energy costs make a home more attractive to buyers and also save wear and tear on HVAC systems.
3.) Metal Roofs are Sustainable
People in the Austin area are environmentally conscious and are willing to pay more for products that are good for the planet. Installing a metal roof will increase your resale value because it is a particularly eco-friendly choice. Not only does a metal roof contain recycled material, it is 100% recyclable at the end of its useful life.
4.) Metal Roofing is Durable
No other roofing material can match metal for life-cycle durability. That is why so many industrial and commercial buildings roof with metal. Your resale value will increase if you have a professionally-installed standing seam metal roof installed because metal roofing:
Requires low maintenance.
Has a up to a 35- 50 year warranty.
Has high wind and hail resistance.
Lowers insurance costs on a home.
5.) Superior Metal Roofing Enhances Your Home
Not all metal roofs are the same. Poor installation or low-quality metal roofing has the tendency to leak. That is why Longhorn only installs high -quality 24-gauge Galvalume coated panels, or Galvalume panels with a Kynar 500 paint finish which are much stronger than industry standards. Our experts custom-make the panels on-site to fit each home perfectly.
The bottom line? If you want to increase the resale value of your home, consider a metal roof. If you'd like to talk to us about it, click the button below to fill out a form or call (512) 982-6070. We look forward to hearing from you!