Standing seam metal roofing is the most popular type of residential metal roofing in Austin. If you've spent much time in rural areas, though, you're sure to see the most common alternative: Corrugated metal roofing.
Most homeowners find they're thrilled with the advantages of standing seam roofing. But we do field questions now and then about why this type of roofing system is preferred to corrugated metal.
Corrugated metal roofing is still used quite frequently in industrial and agricultural buildings. Driving out in the countryside here in Texas, you'll spot many barns that have it. Naturally, these structures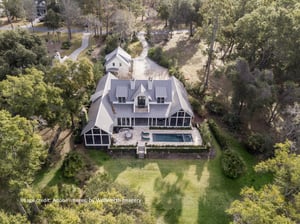 are strong enough to stand up to the elements and harsh Central Texas weather. However, a standing seam metal roof is your best bet on a home. Why? Let's take a closer look. Below are four reasons why standing seam is the preferred choice over corrugated metal on a house.
1.) Standing Seam Metal Roofing Protects Joints and Fasteners
Any type of metal roof that's installed correctly is strong and durable. However, standing seam metal roofing goes a step further by reinforcing the weakest points of any roof system. Fasteners are completely protected from the elements. Custom-fabricated panels with exact sizing ensure that joints don't let in leaks.
2.) Standing Seam Metal Roofing Can Be Better for Some Weather
The surface features of standing seam metal roofing offer extra defense against common Austin weather hazards. You're sure to notice that water skips right off. Snow is much less likely to pile up, and the design makes ice dams less likely. Both forms of metal roofs are fireproof, of course.
3.) Standing Seam Metal Roofing Raises the Value of Your Home
All in all, buyers like standing seam metal roofing much more than corrugated metal. No buyer wants to end up replacing a whole roof, so having the "wrong" roof can be a big turnoff. The incredible performance benefits and energy savings of standing seam metal roofing can make it highly attractive.
4.) Standing Seam Metal Roofing Looks Better
All in all, standing seam metal roofing provides more visual interest than corrugated metal. People notice the striking shadows thrown by standing seam's horizontal ribs right away. Plus, you can get your metal panels in a wide variety of colors. Corrugated metal tends to have a much plainer, matte-like appearance.
For all the great benefits of standing seam, a perfect installation is essential. To learn more or get started, contact Austin's metal roof experts at Longhorn Roofing.