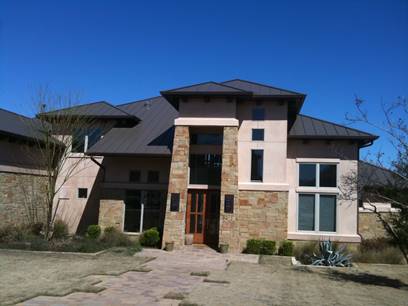 Your roof is, arguably, the most important outside surface of your home -- integral for its overall protection.
When deciding on a roofing material for your home, both metal and composition roofs will do the job of protecting your home.
Here are some of the differences to consider:
Style
A new roof can significantly increase both your home's curb appeal and value, so it pays to think about how composition or metal will look:
Metal: There is no doubt that style is often a primary reason for choosing metal. In fact, metal roofing is one of the fastest growing trends in residential roofing. In the Austin area, metal can give a modern twist to an older building, or a contemporary feel to a new one.
Composite 3 Tab Shingles: Although less of a style change if you have a 3 tab shingle, you can alter the appearance of your home by choosing a new color. High-quality 3-tab shingles from premium manufacturers GAF, Owens Corning and Certain Teed come in a variety of colors including black, brown, gray, white, red, blue and green.
Composite Dimensional Shingles: If you have 3 tab and want a big change in overall appearance, consider the longer lasting dimensional shingles that can highlight the architectural details of your home. Certain types of dimensional shingles look like a slate or tile roof while providing the excellent flexibility, fire resistance and ease of installation of a composite.
Durability
All roofing materials used by Longhorn Roofing are of a high quality and offer excellent resistance to the variations in our Central Texas weather.
Here is what you can expect:
Metal: Our 24-gauge, Galvalume-coated metal panels are thick. And since they are custom-made on-site, we can guarantee a perfect fit for your building. Moreover, our standing-seam installation process makes sure that no fasteners, screws or bolts are exposed, preventing leaks. If you're in need of metal roofing - Austin Longhorn Roofing installs and maintains metal roofs that have a 35- to 50-year durability -- about twice as long as a typical composite roof.
Composite 3 Tab Shingles: Longhorn Roofing uses a premium 3-step process shingles that offer 60 mph wind resistance and have a manufacturer's warranty of 15 to 25 years, depending on the shingle chosen.
Composite Dimensional Shingles: Since they are thicker, dimensional shingles are also more durable, offering a manufacturer's 30-year or lifetime, 110 mph wind resistance warranty. In addition, these shingles have superior resistance to hail and fire.
Cost
If cost is your most important consideration, then composite shingles are the most inexpensive option, especially and make sense if you are not planning to stay in your home for a long time.
However, when considering which roof to choose, the higher cost of a metal or dimensional roof can be offset by:
Increase in home value due to increased curb appeal.
Longer-lasting, more weather-resistant roof.
Lower maintenance costs.
Energy savings from metal and dimensional roofs.
Lower insurance costs because of having a more durable, fire-retardant roof.
Which roof works best for your property? Your particular roofing needs, along with the pitch of your roof and local weather conditions, need to be taken into consideration. With 30 years of experience in the Austin area, Longhorn Roofing has the expertise to help you decide roof is best for you.