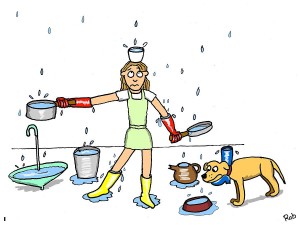 Are you in the middle of a roof-leaking emergency? Don't panic. There are a few simple steps you can take while you await Longhorn Roofing's rescue! You may need to summon your inner Do-It-Yourself-er but we're confident you can. A small leak can quickly turn into multiple big leaks that call for an emergency roof repair. You don't want to turn into one of those frantic Looney Tunes characters, running from one end of the house to the other, stretching yourself thin trying to plug all the holes with all your appendages, and catching the falling rain with the pot and pan set you got for your wedding.
Okay, so that scenario is rather entertaining, but fortunately, highly unlikely.
1. Turn off the Electricity
For starters - is the leaking rainwater headed in the direction of any electrical outlets or appliances? Go to your breaker box first and shut off the electricity. Okay, now you can deal with the leak.
2. Catch and Drain the Rain
The water has to go somewhere... make sure it doesn't absorb into your walls or drywall. Placing a bucket in the attic can collect much of this pesky rain water. If things get really crazy, and you see that part of your ceiling is sagging, you can even poke a hole in it to drain the water in a controlled fashion.
While placing a tarp on your roof is a sure fired way to prevent water damage, it is also extremely dangerous to do, especially during a storm!
3. Protect your Stuff
Do you have valuable belongings, or carpet or hardwood floors that are in danger of water damage? Place a blanket or tarp over them!
4. Call the Emergency Roof Repair Experts!
Call Longhorn Roofing at (512) 982-6070 for Austin roof repair emergencies. We also do new roof installation in the case of extreme water damage.
We don't recommend you climb up onto your roof, especially during a storm, but some may find this option suits them: shingles can be replaced, and patches can be installed. Just make sure you know exactly what you're doing if you go this route.
If you're unsure what your next steps should be, contact us by calling the number above or click the button below to fill out a form for a free estimate. We look forward to hearing from you!