When you buy something at the store, you want to know exactly how much you're going to pay and what you're going to get. When you hire a roofer, you should expect the same – even though the service you're getting is a lot more complex.
As a roofer that Austin TX turns to for great customer service, Longhorn Roofing provides complete written estimates for every roofing project. Our customer's needs come first, and we realize that it's easier for you to make a decision when you have all of the information that you need.
Not Every Austin Roofer Provides Written Project Estimates – Why?
Longhorn Roofing aspires to be the roofer Austin TX looks to first – but we know there are plenty of options. Relatively few roofing firms commit to written project estimates. Why is that?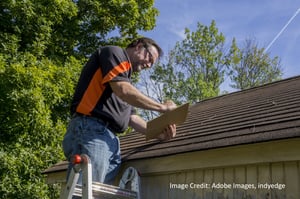 Experience is the main reason.
Roofing projects are often more complicated than they look. To deliver a project on time and on budget, every member of the team needs to understand the scope of work.
That includes what can go wrong.
For a typical roofing job, your roofer needs to ensure:
-The materials for the job are available at the expected price
-The equipment for the job is available and operating correctly

-Every team member shows up to the job as expected

-The initial roof estimate is complete as possible when accounting for work to be done
At any step along this process, a less experienced roofer could make a mistake. That mistake may be small, but its effects are felt throughout the rest of the work. It may add days to your total project time and hundreds of dollars to your bill.
A Written Estimate Means No Surprises – That's the Longhorn Roofing Way
One thing is for sure: You can't make an accurate estimate without seeing the roof first. Even good photos or a description of what's going on with the roof won't always disclose the problem.
That's why every Longhorn Roofing project starts with a complimentary estimate backed by a real, on-site inspection. We'll dispatch a member of our team to your home to take a look and answer any questions you might have.
With your estimate, you'll receive a complete breakdown of project costs and your timeline.
More than 90% of our projects follow the written estimate to the letter. If we discover anything during our work that makes us feel your roof would benefit from additional services, we'll always clear it with you first.
For real peace of mind, use the roofer Austin TX trusts. Contact Longhorn Roofing today to find out more or schedule your appointment so you can get your complimentary roofing estimate.