Today, more Austin area roofers are advertising as a full-fledged metal roof repair company. Metal is popular, and after years of seeing it grow, everyone wants in on the act!
However, it's crucial homeowners know not all metal roofers are what they're cracked up to be. A real metal roof repair company has years of experience.
This is vital because there are metal roof repair techniques only known to seasoned experts. Going from a shingle roof to metal roofing requires a whole new perspective.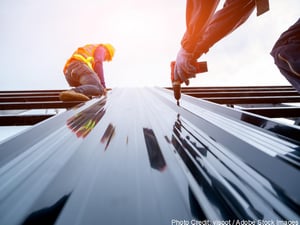 Here's how to be sure you're dealing with a real metal roof repair company:
1. Ask About Their Materials and Techniques
Legitimate metal roofers should always adhere to the highest quality materials and techniques. These days, that means high-gauge Galvalume steel, which resists weather and curbs corrosion. Expect your roofer to use standing seam construction, too: This not only reinforces the seams of your roof but also ensures it can endure the worst wind and rain Central Texas can throw at it.
2. Find Out Whether They Fabricate On Site
If a metal roof panel sustains severe damage, the best thing to do is replace it using an all-new panel with the same dimensions. Sometimes, multiple panels may need to be replaced at the same time. Metal roofing experts should always fabricate their own panels – ideally, right on site at your home after getting accurate measurements in person. This ensures a secure fit.
3. Get Testimonials from Real Metal Roof Clients
If metal roofing is installed incorrectly, it can fail just like a shingle roof. Client testimonials are where the rubber meets the road, proving a company can see the project through and get it done right. Check out the company website to read their latest reviews, but also ask if any former clients are willing to talk to you about the services provided.
4. Get a Complete Project Estimate Before You Start
The project estimate is one of the most important steps in the roofing project. It spells out exactly what you'll get, when, and how much you'll pay. Because metal and shingle roofs have different maintenance needs, the project estimate should be based on a detailed in-person inspection. That helps your roofing team get a sense for underlying issues that might be hard to spot.
5. Get All the Info You Need About Metal Roof Maintenance
Metal roofing is more durable than shingle. In general, it has lower maintenance needs and can go longer between roof inspections. Even so, though, there are always things a homeowner can do to get more value from a roofing system. Ask plenty of questions so you can feel truly confident in your roofer's knowledge. They should be able to offer full, useful answers to your questions.
Here in Austin, you don't have to search high and low for a metal roof repair company you can count on. At Longhorn Roofing, our team pioneered residential metal roofing in the local area. For information or an appointment, contact us.