If your roof springs a leak in Round Rock, the best thing to do is get help right away.
Of course, there's no good time to have a roof leak. Many homeowners are tempted to put down a bucket and let it wait a while. But beware: The visible damage you can see during a roof leak is only part of the story. It's like the tip of the iceberg – except the rest is in your roof!
Be on the lookout for these signs a roof leak is more serious than it seems:
1. Structural Damage
Structural damage to the roof is both one of the most serious issues and relatively likely after a leak. Your roof decking, the layer that lies under the shingles, can develop weak spots and need replacement. If the waterproof underlayment is exposed, it can get torn.
2. Insulation Deterioration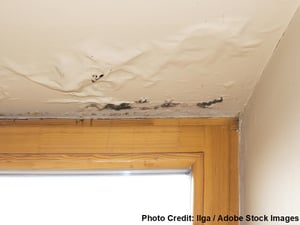 Your attic insulation is an essential part of the air flow cycle in your home. It keeps you warmer in the winter and cooler in the summer. When you notice a roof leak, check the attic for signs of moisture infiltration. Older insulation can simply dissolve away if it gets saturated with water.
3. Foundation Damage
Your home's roof and foundation work together for a secure structure. Roof damage puts more pressure on the roof, which leads to uneven foundation pressure as well. With some structures, you can visually check your foundation for "stair-step" cracks that suggest damage.
4. Mold and Mildew
Any time a wall sustains water damage, mold and mildew are possible. Both can hide unseen within walls. If you see black, green, or gray patches, the problem probably goes much deeper. Remember, some forms of mold are very dangerous and all can make respiratory health worse.
5. Floor Damage
Naturally, damage to the floor is the most obvious leak hazard and one people take precautions against first. It's crucial not to underestimate how quickly a leak can spread across the roof. A bucket may be sufficient for a little drip, but you could wake up to find the whole floor soaked.
If you see any of these problems, a Round Rock roofing expert should conduct a complete inspection of the roof. Repair means not only fixing the original leak, but making sure the rest of the roofing system will stand up to harsh weather in the future.
For Leaks, Don't Wait Longer Than a Month for Round Rock Roofing Repair
You might find yourself having to cope with a roof leak over a weekend while you wait for a roofer. Any longer than that, though, and the cost of your roof repair no doubt starts creeping up. Prompt roof repair costs less than replacement!
It gets especially serious if bad weather rolls in. Even a damaged roof can hold steady when it's bright and dry outside. The story is very different when a major storm is on the horizon!
For immediate help with Round Rock roofing, contact Longhorn Roofing today.