Metal roofing is really taking off here in Round Rock!
At Longhorn Roofing, we've had the opportunity to help homeowners all over the Austin area enjoy the great benefits of modern metal roofing. Metal roofs offer a slew of advantages shingle roofs can't.
Here's just a few of them: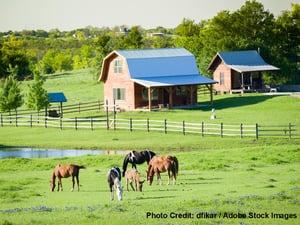 Metal roofs save you money on your electric bill by reflecting solar energy and heat.
Metal roofs are incredibly durable, resisting weather, fire, mold, mildew, and more.
Metal roofs last longer than shingle roofs and they don't need as much maintenance.
With metal lasting about 30 years longer than shingle roofs, on average, it's no surprise more people in Round Rock are opting for it. Over the last few months, though, we've received a puzzling question from many customers:
"Is standing seam metal roofing the same as metal shingle roofing?"
At Longhorn Roofing, we decided early on we would exclusively use standing seam roofing. Once you hear the differences, you'll see why it's the only metal roofing you'll ever need.
A Few Words on the Performance of Metal Shingle Roofs
Most people are used to old-fashioned asphalt shingle roofs, so it's no surprise they would wonder what the story is with metal shingles. Let's take a look at shingle versus standing seam.
Metal shingle roofs mimic the look and construction of conventional shingles. Unfortunately, this means they don't have the iconic look of today's metal roofs – but that's only the beginning.
The biggest drawback of metal shingle roofs is that they are made of a thinner gauge metal than standing seam roof panels are. Combine that with the fact that the individual shingles are much smaller, and you're paying for a metal roof that has many of the same problems a shingle roof does.
One thing people like about metal shingle roofs is that they're faster and easier to install. Sadly, this means companies that don't really understand how metal roofs should work often offer them. Although they are inexpensive up front, you may end up having to replace the whole roof later on.
Standing Seam Metal Roofing is the Best Material Available
We'll admit it: Standing seam metal roofing takes longer for us to install. In fact, we fabricate the individual panels right on site according to the shape of your roof so you'll get the perfect fit.
It's a little more work for us, but it usually gets done in a few days in Round Rock.
Standing seam metal roofing has panels that run vertically up the roof. This provides the striking look and the dramatic shadows associated with metal roofs. The raised interlocking seams mean there are no visible fasteners that can become warped or corroded and spring leaks.
With standing seam, it's easier to use thicker, high-gauge Galvalume or Kynar 500 painted steel on the panels. This coated steel is remarkably strong and durable, protecting a home from the elements for decades. For our money (and yours!) it's simply better than the alternatives.
To learn more, contact us today.