Wondering what happens when you need to make a roof insurance claim after a storm?
Here in the Round Rock area, both summer and winter storms pose dangers to your roof. The Texas coast gets struck by hurricanes every month of a typical Atlantic hurricane season, so this is when most claims have to be made.
Your roof doesn't have to completely fail for you to be eligible to get Round Rock roofing costs covered. You may be able to get up to 100% of your costs reimbursed if you have a leak or any other roof issue that needs prompt attention.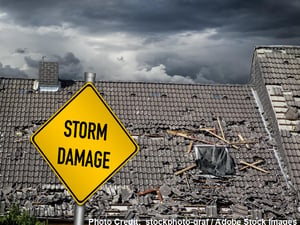 Here's what to know:
1. Always Work With a Trusted Local Roofer
The most important thing to remember is that insurers prefer to with a legitimate roofing company. Amateur roofers usually do more harm than good – and even if they deliver, you may not get a warranty you can trust. Always choose a roofer with a long history in your area.
2. Minimize Any Additional Roof Damage
Most insurance companies require homeowners to do their best to minimize additional damage after a storm is over. The best way to be sure you meet this obligation is by getting waterproof tarps up on the roof as soon as possible along with buckets to catch falling moisture.
3. Contact A Roofing Specialist Right Away
If there's a major weather event, you can bet local roofers are pretty busy. Even so, you can get in touch to get on the schedule as soon as possible. Acting fast can save you days of waiting! Just remember: Never accept services from anyone who goes door-to door claiming to be a roofer.
4. File Your Claim as Soon as You Can
Most insurance companies will give you plenty of time to file a claim, but that's not always the case. A good way to cover your bases is to contact your insurer right away and notify them that you will be submitting a claim. They can advise you on anything you need to do.
5. Start With a Good Roofing Inspection
After a hurricane, it often takes 2-3 weeks for insurers to send an adjuster to look at your roof damage in person. Sometimes, you can accelerate this process by submitting photos and a cost estimate from your roofer with your initial claim.
Storm Damage? Call Longhorn Roofing for Round Rock Roofing Expertise
Getting insurance claim work done for Round Rock roofing may seem intimidating, but it's not as hard as it looks. Pick a reliable roofer and the rest becomes much simpler. To find out more or get started, just call us today.