The recent hailstorm in Midland has many Texans looking for a roofer.
Some firms that only handle a handful of roofs in an average month report fielding hundreds of calls and working on dozens of estimates over the last few weeks.
Others have pointed out a perennial problem: Door-to-door scam artists posing as roofers. These unscrupulous characters take money upfront and then disappear.
In some cases, they leave your roof in worse condition than before.
People ask us: "What should I do if I think a Central Texas roofing company is ripping me off?"
Here's the answer: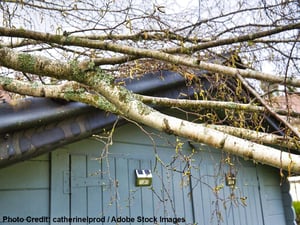 1. Double-Check the Contractor's Information
After a storm, people make snap decisions about protecting their home. When the adrenaline wears off, it's a good idea to double-check that you're dealing with a legitimate contractor. Look for signs of business: A website, reviews, a local address, and membership with the Better Business Bureau.
If you can't find this kind of information, it's probably a scam.
2. Alert Local Law Enforcement
Law enforcement knows these scams happen, but they can rarely do anything about it – scammers move quick. Inform your local police department. You may be asked to make a written statement where you can disclose what happened. Cluing in the community about scammers makes everyone that much safer.
3. Tell the Neighbors
If someone's knocking on your door, odds are they're doing the same up and down your street. It doesn't hurt to let your friends and neighbors know to cast a wary eye on roofing scams. At the same time, you might be able to get recommendations for a Central Texas roofing firm that will do a safe, professional job.
4. Call a Central Texas Roofing Company You Can Trust
If any work was done on your roof, it probably needs to be revised. Without meeting local building codes, your roof could spring a leak any time. Plus, when you try to sell the home, an inspection could reveal roof problems, turning off your buyers. Don't wait until storm season is over: Get on a waiting list right away.
5. Consider Talking to Your Insurance Company
Picking a reputable Central Texas roofing team means you can usually get all or most of your roofing repairs covered by insurance. Remember though -- insurance agents also have a backlog of work to get through. The sooner you get in touch, the easier it'll be to get any on-site inspections taken care of. Many of the best roofers can also help you complete your insurance paperwork the right way.
6. Contact Your Bank
Not surprisingly, most roofing scammers only take cash. If you used check or credit, there may be something you can do. Talk to your bank to discover whether you can freeze the payment. Just bear in mind that although checks can sometimes be stopped, it may take months to recover a credit balance.
Anyone can make a mistake, so don't stay quiet if you've been scammed.
Contact Longhorn Roofing for true expert roofing help.