Living in the Austin area, you've got plenty of roofing companies to choose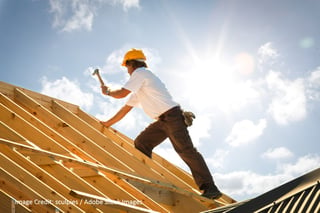 from.
If you've been here during a heavy rain, winter storm, or in the sweltering heat of the Austin sun, you know the weather can be fierce. You can love the Texas outdoors and still be happy to get inside – whether it's cool or warm – and take a load off.
Your roof is a huge part of that. A little problem with your roof can leave you all but exposed to the elements. Even something that seems minor, like a small leak, can have unexpected consequences: Mold, mildew, and more.
It's no wonder, then, that there are quite a few Austin roofing companies.
Among all of them, though, how do you know who'll do the best job?
No matter which Austin roofing company you pick, the Longhorn Roofing team wants to give you the facts you need to make an informed decision!
When you're comparing your options, be sure to look for these hallmarks of quality:
Licensed and Insured
First and foremost, you want to be sure you are dealing with a responsible, established business. That means licensed contractors who are dedicated to doing things the right way, all the way. Licensing is an important guarantee of quality, and insurance helps protect you in case of mishaps on the job site.
Free Estimate
The best Austin roofers have seen just about everything. With that in mind, there's no reason why your roofing job should be a surprise. An on-site inspection of the roof and discussion of your requirements should lead to a detailed estimate. Estimates should always be free and usually occur in person.
Everything in Writing
Naturally, your estimate should come in writing. In a lot of cases, the estimate serves as a big part of the contract. Everything should be in black and white, including all costs, projected dates for the major milestones, and what will happen if the unexpected strikes.
Plenty of Experience
It takes decades of experience to make a great roofer. Projects might look similar, but each has its own quirks. For example, you have to be especially careful to prevent tool malfunctions while working in winter. It takes time to learn these lessons, master customer service, and deliver excellence.
Connections in the Community
How do you know which Austin roofing companies are really successful? Look for glowing reviews and testimonials from customers like you, an A+ BBB rating, and recognition from trusted sites like Angie's List. A sterling reputation takes many years to build – but it can also be lost fast.
A Variety of Roofing Options
We've all heard the saying: "When all you have is a hammer, everything looks like a nail." This is true of roofers who only know one roofing solution … they'll always try to sell it as the answer to your problems. Look for certifications from top brands like CertainTeed and Owens Corning.
For Austin roofers you can trust, contact Longhorn Roofing.