Need a Hail Damage Roofer in Central Texas?
Austin and other Central Texas communities can experience hailstorms several times each winter. Hail prematurely ages shingle roofs by bruising them, weakening their surface and stripping off the granules.
Whenever there's a hailstorm in your area, it's important to talk to a hail damage roofer you can trust. Even if there is no visible "hail strike" – the characteristic round dent in a shingle from a direct impact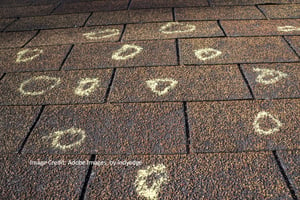 – you can still have damage to dozens of shingles all across your roof. That makes leaks much more likely.
Once a roof has been weakened by hail, the next rain, snow, or strong wind can be catastrophic.
With help from a hail damage roofer, you can get hail repair in Austin that will save you money by preventing future leaks and ensuring you don't end up having to replace your roof before its time. While shingle roofs are more likely to be damaged, some metal roofing systems can also take damage from large hail.
It's best to call a hail damage roofer within three days after a storm – and Longhorn Roofing is here to help.
Hail Damage Inspections to Put Your Mind at Ease
Hailstones do not have to be large to severely compromise a shingle roof. A small strike that does not even leave visible damage can allow moisture to penetrate under the shingle. That contributes to wearing out the waterproof membrane under the shingles and, ultimately, rotting the wooden substructure.
Because not all hail damage is visible at a glance, our team performs a complete on-site inspection of your roof. A hail damage roofer will come to your home, climb on the roof, and check every element for hail damage. That includes the shingles, flashing, gutters, and more.
A hail damage inspection can be completed in as little as an hour. If we discover evidence of damage, you'll receive an initial estimate of the repair work your roof needs. We never pressure you to agree right away, and you always receive a complete written "scope of work" before your roofing project begins.
With Longhorn Roofing, there are never unexpected surprises – only promises kept.
What Happens When a Hail Damage Roofer Repairs Your Roof?
Hail-damaged roofing elements should be promptly replaced to restore the roof to its pre-storm condition.
The bulk of the work involves determining which shingles have been damaged. Like most things involved with hail, this takes some experience to work out. While some shingles may show a clear impact pattern, subtle signs like granule loss in a straight line can mean that a shingle was flapping in the wind for most of the storm.
Old shingles must be removed and new ones placed and fastened securely. New flashing should be installed around projecting features like the chimney and vent pipe. If the gutters have been dented or knocked out of place, they should be returned to position. Replacement is necessary if a gutter has been punctured.
After the repair work is complete, your hail damage roofer will inspect the finished work according to the strict process that has led Longhorn Roofing through hundreds of successful roof repairs over three decades. All debris, such as old shingles and roofing nails, will be removed from your property before we are done.
Help With Roofing Insurance from a Hail Damage Roofer
In most cases, Austin residents who call for a hail damage roofer want to get the work covered by homeowner's insurance. Depending on your policy details, you may be expected to wait for an insurance adjuster to visit your home and view the hail damage before any work on the roof can commence.
However, this is not always the case – check with your insurer to be sure.
Sometimes, insurance companies will accept photographic evidence along with a report from a hail damage roofer. Skipping the adjuster's visit can save you several days, which makes the whole process go by faster. No matter what, it's crucial to call your hail damage roofer and get on the schedule soon after a storm.
What Should You Do Immediately After a Hailstorm?
A hailstorm can be a nerve-wracking event. In addition to roof damage, it can also bring harm to your windows, parked vehicles, and anything else that happens to be outside. Plus, the sound of a hailstorm leaves no doubt that something big is happening!
It's natural to want to assess damage after a hailstorm. Be sure that you wait until the storm has completely passed before you go outside. Wear weather appropriate clothing and boots, since hail can leave hard surfaces slippery, creating a dangerous fall hazard.
If you want to inspect your roof for damage, do not climb up on the roof. It will be slick until the weather warms up, so you could easily end up falling off. Plus, you can worsen the damage to your roof if you walk on it the wrong way or use the wrong footwear.
The best way for homeowners to check for hail damage is to examine all sides of the roof from ground level. A pair of binoculars can make it easier to spot subtle signs of damage. If you see even one hail strike – featuring the characteristic round indentation pattern – you should call a hail damage roofer.
There is one other thing you can do before a roofer arrives that will help your roof and save you money.
Unbeknownst to homeowners, most insurance policies that cover roof repair require you to do everything in your power to prevent damage from getting worse between the storm and the repair. Many an Austinite has had a roof repair claim refused for failing to follow this provision, even when using a top hail damage roofer.
As soon as it is safe to go on the roads, consider purchasing a waterproof tarp that can cover your roof. This will help delay further moisture intrusion into any bruised or cracked shingles. Your hail damage roofer can remove the tarp when it is time to perform your hail damage inspection.
Call the Hail Damage Roofer Austin Trusts at Longhorn Roofing
Longhorn Roofing is a locally owned and operated hail damage roofer serving our neighbors in Central Texas for more than 30 years. A certified preferred installer of premium roofing products from several leading manufacturers, we have an A+ rating from the Better Business Bureau and a 4.8 score on Google Reviews.
When you need a hail damage roofer, don't settle for anything less than the best. Let us show you the Longhorn difference and just how easy hail damage repair can be. We will work with you to take your schedule and any other needs into account. To find out more or set an appointment, contact us today.