A Georgetown hail damage roofer is a "must have" ally in your battle against premature roof aging!
While most roofing manufacturers will tell you their roofs last for 20 years or more, that is far from a guarantee here in Georgetown. Like in other Central Texas communities, Georgetown roofs can suffer accelerated aging by way of harsh weather. That doesn't just mean summer storms, but fall and winter hail, too.
Hail is insidious. While the largest hailstones leave a characteristic round dent in shingles, damage is not always obvious. To know for sure what's going on with your roof, you need expertise from a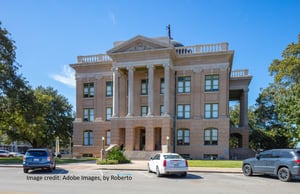 Georgetown hail damage roofer.
Why You Need to Get Your Roof Inspected by Your Trusted Georgetown Hail Damage Roofer
After a hailstorm has safely passed, your first order of business should be to check the roof. In addition to those round indentations, also check up on metal flashing around projecting elements, as well as your gutter. It may be out of place or it may even fall off.
More subtle signs of damage can include:
-Bruised spots where roofing granules have been worn off
-Stripes of lost granules indicating a shingle was flapping in the wind
-Cracking, especially along the edges of your damaged roof shingles
If you notice any of these obvious signs of damage, the odds are very good that more is going on. Don't climb up on the roof for a closer look: Not only is this risky, but it can cause further damage that will make a repair more extensive. Let a Georgetown hail damage roofer do the rest.
Shingle roofs face special risk when it comes to small and mid-sized hail, so an inspection is still a wise idea even if the weather wasn't exactly "the storm of the century." A small hailstone may strike just right to slip between shingles and enable further moisture intrusion, threatening the waterproof underlayment.
The Sooner You See a Georgetown Hail Damage Roofer, the Better for Your Roof
Luckily, you can spare yourself expense and aggravation with a quick roofing inspection. Getting hail damage repair fast means that the next hailstorm, wind, or rain will be far less likely to cause more serious roof leaks.
Longhorn Roofing is on the case for all your Georgetown hail damage needs. Contact us today to get started.