Roofing companies Austin can trust are always rolling out new roofing products for you to try.
The products themselves may be new, but the manufacturers remain the same: Trusted names like Owens Corning, GAF, and CertainTeed. These brands have been around for decades.
In the hands of roofing companies Austin residents prefer, products from these companies can extend your roof's life by many years and improve comfort within your home.
One of the best recent innovations on the market is the cool roof shingle.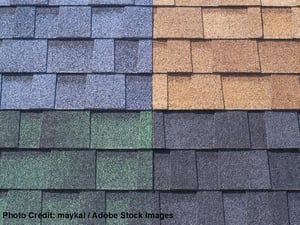 What Are Cool Roof Shingles?
Cool roof shingles are specialized reflective shingles that reduce total heat penetration of your roof by diverting solar radiation from the roof surface. When your home absorbs less heat, it's easier to keep things cool. You'll sweat less and your AC won't have to work overtime!
These advanced shingles have become a lot more popular around Austin in recent years.
With reduced energy consumption, you'll save money on your cooling bill. You'll also improve the performance of the insulation and ventilation in your attic, so some benefits will extend to the cooler seasons, too. Plus, you're doing your part for the environment by using less electricity.
When choosing cool roof shingles, you have three major options:
Owens Corning Duration Premium COOL
Owens Corning cool roof shingles are made of specialized granules that use remarkable roofing innovations to curb heat absorption. They come in a variety of colors including oak, fog, sage, and sunrise. Plus, they can couple with custom hip and ridge products that make them more effective.
GAF Timberline®Cool Series® Roofing Shingles
With modern reflective technology, these highly reflective shingles can help to reduce temperatures in your attic, so your home will stay cooler in the summer — to help save on air-conditioning costs.
CertainTeed is one of our favorites here at Longhorn Roofing, and their cool roof shingles will not disappoint. They're available in the widest range of colors (a dozen!) and come with a rock solid manufacturer's warranty.
Get Your Cool Roof Shingles from Longhorn Roofing
Here at Longhorn Roofing, we strive to be one of the top roofing companies Austin locals can rely on. Since 1985, we've offered Austin the highest quality of service.
We hold credentials from all the major cool roofing product manufacturers:
GAF Certified Roofer
Owens Corning Preferred Contractor
CertainTeed Master Shingle Applicator
When you choose us, you know you're getting expertise that's second to none. Our roofing team truly understands the intricacies of each product and how to get the most from them. That helps ensure your new cool roof will give you the excellence you expect and last for years to come.
To find out more or get started, contact Longhorn Roofing.