Worried about hail damage to roof shingles from a recent storm? You're not alone!
After a storm, hail damage to roof elements is often much worse than it looks. Bruised shingles still in place on your roof can hide deeper damage to the waterproof underlayment or even structural wood beneath. That makes it easy for a leak to break out in the near future.
Austin homeowners are often in a hurry to find a roofer and repair hail damage to roof shingles, tiles,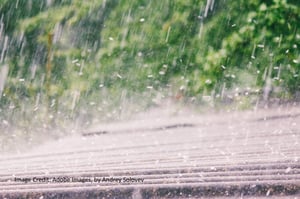 or panels. Insurance companies impose strict time limits for you to file a roof repair claim in Austin. But it's crucial not to let that pressure lead to a poor choice of roofer.
Choose a Reputable Roofer and Avoid Austin Roofing Scams
Austin roofing scams usually take a very familiar form.
So-called "contractors" go from house to house and advertise in neighborhoods after a storm when recent hail damage is prevalent. They are on the lookout for older homeowners and those they deem vulnerable, but they will scam anybody who listens to their pitch.
Typically, they promise to repair hail damage at discounted rates, accepting payment in cash to avoid taxes and fees. They may even promise they will help you get more money from your insurer, even though paying in cash means no way to trace the transaction!
These scammers are not real roofers and usually disappear after taking your money.
With a reputable Austin roofer, you can get hail damage to roof shingles repaired the right way. A trusted local roofer will use high quality materials and the best roofing know-how to restore your shingles, or metal roof panels to pre-storm condition, usually with replacement.
The advantages are undeniable. Only real, experienced roofers can:
-Perform work your insurer will reimburse you for

-Offer warranties and stand behind the work done

-Use the highest quality materials and equipment

-Protect your roof system from additional damage

-Recognize and alert you to any other roofing issues
For Over 30 Years, Longhorn Roofing Has Been Serving Austin
In today's world, trusted local roofers don't need to go door to door – we have websites! Always double check a roofer's credential by looking for reviews on sites like Yelp and Google verifying they have an "A+" rating with the Better Business Bureau.
For a roofer you can count on, contact Longhorn Roofing.