When you're buying a house around the Austin area, one of the most important things you can do is to get a home inspection. A home inspection is how you get informed about issues around the property you might need to get repaired.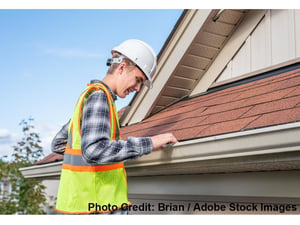 While most sellers have good intentions, they don't always understand the way roof damage accumulates over time. Likewise, they usually leave it to you – the buyer – to pay for an inspection. It really is a case of "let the buyer beware."
Sometimes, lenders or insurance companies insist on a home inspection. They want to be sure the structure is safe before extending a home loan or an insurance policy.
Many elements make up a home, and an inspection should be comprehensive. But if you only have money to invest in one area, make sure the roofing gets attention!
A Faulty Roof Can Cost New Austin Homeowners
It may cost a few hundred dollars to get a home inspection – but if you miss out, you could be facing tens of thousands of dollars for a roof replacement. And what's worse, you might not have the option of putting it off: Storm season is always just a few months away!
A well-maintained shingle roof can last upwards of 20 years, accounting for wear and tear caused by harsh weather. As soon as you can, ask your seller when the roof was last replaced, when it was last serviced, and how often it has been inspected over the years.
Some homeowners may simply not have this information. If someone has to guess about their roof maintenance, take that with a grain of salt – it's always better to have an inspector verify it!
Depending on the size of the roof, a complete roof replacement can run anywhere from $10,000 to $30,000. On the other hand, proactive roof repair can control costs and extend a roof's service.
What Gets Checked During an Austin Roof Inspection?
During the roof inspection, all major parts of the roof system should be examined.
That includes:
Shingle Layer
The top layer of the roofing system is what takes the most punishment year after year. Faulty shingles can sometimes point to a more serious roofing issue that requires further investigation. Flashing, vent pipes, and gutters also need to be in working order.
Underlayment
The underlayment is the waterproof membrane beneath the shingle layer. Although it isn't easy to access directly, bubbling and buckling on the shingle level can indicate shifting or breakage. If the underlayment is compromised, mold and mildew often result.
Decking
The decking supports the shingle layer and underlayment and can rot over time due to moisture. Conditions in the attic strongly impact the decking, especially ventilation and the quality of insulation. An attic review is a crucial part of your roof inspection.
If your home inspection uncovers problems, you can negotiate with the seller – or walk away. Before you buy, get the facts. Contact Longhorn Roofing today for the expertise you need -- because it's a great idea to hire a roofer to do a roof inspection!