Some areas around the Austin area capped off the month of March with a hail storm for the history books.
On Sunday, March 20, residents contended with hailstones exceeding 4.5 inches in diameter. Golf ball-sized hail usually makes breathless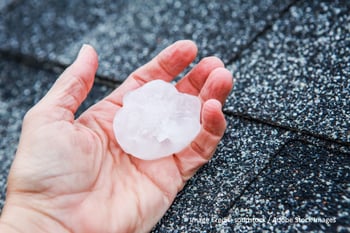 headlines, and that's only about 1.75 inches. With the Sunday storm, we're talking about hail that was bigger than a grapefruit.
Naturally, it's a good time to think about the potential for hail damage to your home.
Hail Damage is a Scourge for Austin Homes and Businesses
Luckily, hail storms just don't happen everyday. Hail season generally reaches its peak in spring, with April and May seeing a high level of precipitous activity. However, hail storms have been known to stretch on into June -- and even July.
Hail occurs when pellets of rain falling in cold temperatures form balls or lumps of ice.
Although major hailstorms are relatively rare, they can come around suddenly and might have serious consequences for your roof. The heavy impact of hail can cause dings and dents. Damage to structural weak points like chimneys and flashing can be especially severe.
Hailstones amassing on the roof can also contribute to problems.
Just like snow, hail can sit on the roof for hours before it melts away when temperatures change. This means that the same areas affected by the impact of heavy hail could then be filled with water and start to leak.
Hail Damage Can Be a Stealth Threat to Your Roof
Hail makes an unmistakable sound against the roof, but when all is said and done, it's not always obvious that you have severe hail damage.
Although leaks can spring up right away, and often do in the worst cases, the harm done to your roof by hail might not become clear until hail season gives way to sustained spring and summer rainstorms. Often, multiple small leaks will seem to break out all at once.
Metal roofing is a great precaution for defending your home against hail damage. It stands up to impact pressure that can damage composite roofing, and eliminates the potential for lingering hail to create heavy, uneven pressure on your roof.
Metal roofing comes out unscathed from major hail episodes more often than other roofs.
Longhorn Roofing Can Repair or Replace Your Roof After Hail Damage
As lifelong Austin residents with more than 30 years' experience in the community, we know that snow, rain, and wind aren't the only threats to local homes and businesses.
If you're considering roof repair after hail damage, give us a call. We'll come out for a complimentary estimate. And, we'll get your hail damage repaired fast and right the first time, no matter how bad it is.
We can even work with your insurance to make certain you get all the benefits you can apply to get your roof maintenance needs taken care of. We always start with a written estimate so there are never any surprises for your budget.
To learn more or get started on your project, contact us today. Or click on the link below to read more about the services that we offer.