Corrugated metal roofing was one of the first types of metal roof in wide use in the United States. It was very popular for barns and other agricultural buildings all over the country. It remains a frequent sight any time you take a road trip across the great state of Texas and pass through rural areas.
Today, most Austin metal roofing comes in the form of standing seam metal roofs. These roofing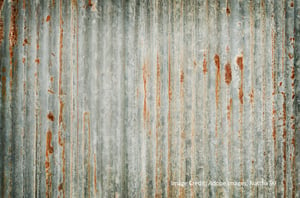 systems are more durable because they protect joints and fasteners with horizontal metal "ribs." The raised ribs produce a distinctive pattern of shadows that confer some terrific visual interest on the roof.
Austin Metal Roofing
When it comes to metal roofing for your Austin home, you can still choose to use either corrugated metal or standing seam metal roofs.
So, which is better?
We're far from impartial when it comes to Austin metal roofing: With 35 years of experience, we helped to introduce standing seam metal roofing to Central Texas. But it's always a wise idea to have all the facts, and there are some homeowners and business owners who go with corrugated metal.
There are three main differences to be aware of:
1. Design Qualities
A corrugated metal roof consists of interlocking metal sheets in a rippled pattern. A standing seam metal roof uses interlocking metal panels measured precisely to run from the ridge of the roof to the eave. The standing seams help the roof shed water and snow and stand up to wind. It also works better as a low-pitched roof.
2. Fasteners
Fasteners are a necessary part of any roof, but they are also the most vulnerable structural weak points. The sheets of a corrugated metal roof are fastened on top of the roof panels with screws that have neoprene washers. Because these are exposed to UV and weather after 10 or so years they are prone to leakage. On the other hand, standing seam roof fasteners are concealed under roof panels, completely concealing and protecting the fasteners.
3. Durability
With just a little bit of maintenance – an inspection once every two years or so – a standing seam metal roof may last anywhere from 30 years to 50 years and beyond. Corrugated metal roofing can't accommodate flashed brackets and the system's exposed fasteners typically become loose within a decade, requiring replacement.
It will be a long time before corrugated metal roofs are retired completely. For the purposes of metal roofing for your Austin home, we recommend standing seam as it is better in all the ways that matter most to homeowners. To find out more, contact the Longhorn Roofing team today.