After a windstorm or hail, severe storm damage can leave your roof leaking.
But in many cases, the damage is more subtle than that. You might not see any sign that the waterproofing layer and timber under your roof has been affected, but the next time it rains could turn into a disaster!
Storm Damage Repair from Austin Roofing Pros
Every storm brings its own hazards. When your community takes a hit, contact Austin's own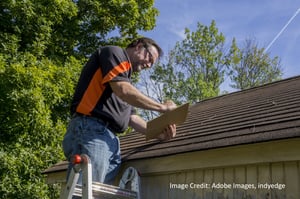 Longhorn Roofing for a storm damage assessment. Our team performs roof inspections and roof repairs to restore the strength of your shingles or roofing panels – and extend the life of your roofing system.
Our team is:
-Backed by more than 30 years of storm damage roofing experience

-Rated "A+" by the Better Business Bureau

-A preferred vendor for GAF, Owens Corning and CertainTeed quality roofing products

-Rated 4.8 out of 5 on Google with 70 reviews from customers like you
Storm Damage Repair You Can Count on Here in Austin, TX
In Austin and surrounding communities, storms often bring out disreputable characters. Going door to door, they look for homeowners who are willing to pay for roofing services in cash. They'll take your money – and then they'll disappear.
With Longhorn Roofing, you're in trustworthy hands.
We know you don't have much time to wait when your roof is leaking after storm damage. Our courteous and knowledgeable professionals will be on the scene fast to inspect your roof, assess the damage, and provide the information you need to go forward with confidence.
At Longhorn Roofing, we make storm damage repair easier:
-All our Austin roofing projects start with a free initial estimate at no obligation to you

-You receive a formal written estimate so you know exactly what your project includes

-All work is reviewed under our strict 12-point inspection process to ensure excellence

-Due to our manufacturer certifications, many projects are backed by great warranties
Expect the Best for Your Austin Storm Repair
Doing the job well and getting it right the first time – that's what Longhorn Roofing has stood for in the Austin roofing industry for more than 30 years. Our family-owned business has been proud to serve our friends and neighbors throughout Central Texas, and we're ready to take your call.
When it comes to storm damage, don't leave your roof to chance.
Contact Longhorn Roofing today to get it fixed right.