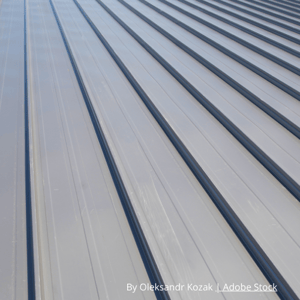 No matter whether you prefer a shingle or metal roof, good Austin roofing depends on good materials.
Quality materials from the top roofing manufacturers combined with excellent installation will deliver value for decades to come.
What are the Two Best Austin Roofing Materials?
1. Standing Seam Custom-Fit Metal Roofing
There are two options for residential metal roofing:
-Screw Down metal roofs where the fasteners are exposed to the elements.

-Standing Seam Custom Metal Roofs where the fasteners are concealed under the panels and not exposed to the elements and fabricated on-site by an expert
One of the biggest problems with screw-down metal panels is that, even with the best of intentions, the fasteners have a limited lifespan due to their exposure to the weather. That means that, more often than not, you'll be dealing with a leak much sooner than you would like. Installation problems also make them more vulnerable to other weather.
At Longhorn Roofing, we exclusively pre-form custom metal roofing using standing seam metal panels right here in Austin. That means only using thick, high gauge steel for every custom-fabricated panel. All roofing panels are also coated with Galvalume to make them resistant to corrosion and extend their service life to as much as 50 years.
2. Three-Tab Composite Shingles
Although many Austin roofing customers opt for metal when it comes to residential roofing these days, there's still a lot to be said for an advanced shingle roofing product. It might seem like "a shingle is a shingle is a shingle," but modern composite shingles are a world apart in quality compared to older roofing shingles. Our three-tab composite shingles are highly resistant to moisture and fire. They don't crack, split, peel, or warp -- and a reflective granule layer helps safeguard them against fading.
It's easier to maintain your roof and much more affordable to bounce back even after the fiercest Austin storm season. Most of our shingle roofing clients choose composite shingles.
When it comes to roofing Austin, we don't settle for anything less than the best!
Longhorn Roofing is the proven Austin roofing company that goes the extra mile to ensure every aspect of your Austin roofing project reaches the highest standards of quality. To find out more or get started selecting a new roof in Austin, contact us today.