When it comes to roofing in Austin, there's a busy season and a not so busy season.
You should never hesitate to call an experienced Austin roofer whenever you need one. A small roofing project you take care of right now is easier than a big one in six months.
Still, every industry has its seasonal ups and downs, so here's what you should know.
When is the Best Time for Roofing in Austin?
From a homeowner's perspective, there are two obvious times to get roofing work done.
The first is just before the summer storm season starts to kick up.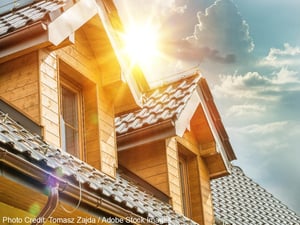 If your roof is in need of repair or even just routine maintenance, having it done early in the summertime will help you ensure that you are ready for the brunt of bad weather. It can make the difference between springing a leak and weathering the storm without a scratch.
Another good time for routine maintenance is late autumn or early winter. Yes, there are some challenges involved in doing certain roofing jobs in the winter. However, it's best to have them all taken care of before snow starts to accumulate on your roof.
If a roof is already weak, it only takes a little snow to cause a leak or other problems.
If your roof needs complete replacement, you might want to wait until the cool of autumn. It is much easier to maintain a comfortable temperature within your home during this time even while roof work compromises the structure's natural ability to regulate heat and cold.
And when is the best time for roofing from your roofer's perspective?
An expert roofer can adapt to any weather conditions, in any climate, at any time. Since it can be up to 20 degrees hotter on your roof than it is on the ground level, though, cooler temperatures are easiest to work with. However, we'll always meet your needs.
When is the Worst Time for Roofing in Austin?
Although you should be able to call a reputable Austin roofing contractor with confidence any time of year, there is one caveat you should be aware of.
When the storm season is heavy, the best Austin roofers often take back-to-back calls to serve all the people who need them. The schedule gets filled up fast.
So, you might find it takes a while to get service after a major weather event.
There's two things to remember:
You should always call your favorite roofer ASAP when you notice roof damage.
Never let an amateur onto your roof – only use a licensed, bonded, and insured pro.
Some Austin residents feel concerned about contacting a roofer before they've gotten the go-ahead from insurers. While insurance is a serious issue after a storm, the best Austin roofers can help you document the damage and even file the paperwork.
That won't fly with amateurs: Use them and you'll end up paying 100% out of pocket.
For personalized Austin roofing advice from the leaders, contact Longhorn Roofing.